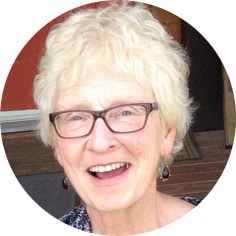 Teresa McLeod (nee Bullied)
September 30, 1946 – May 22, 2019
Teresa's family and friends lost a ray of sunshine May 22,2019 when she passed away in Providence Place, Moose Jaw after a courageous battle with ovarian cancer and dementia.
Teresa was a sister, a wife, an aunt and a friend extraordinaire. She was predeceased by parents, Jarvis and Vera Bullied, her husband, Marshall McLeod in 2011, many aunts and uncles and numerous friends and animal friends.
Teresa's humour, determination and sparkle will be missed by six brothers and two sisters and their families: Larry Quiding, Ken & Carol Bullied, Rich & Dorothy Bullied, Bob Bullied, Janet Bullied, Harold Bullied, Marg & Greg Van Alstine and Travis Bullied; nieces: Erin Sampson, Kimberly & Jeff Ambrose, Deborah & Dom Flegel, Nicole & Moe Ricard, Shawna Bullied, Tracey Hall (Dean Cook), Shannon Bullied, Christa Van Alstine (Michael McCurdy), Lisa Van Alstine; nephews: Lane Bullied (Nicole de La Gorgendiere) and Tyler Van Alstine. Plus many special great-nieces and nephews!
Born in 1946, and sixth in a string of nine siblings, Teresa exuded energy, humour and kindness her entire lifetime.
As a young person it took little time to cultivate Teresa's love of animals. By fourteen, she was mucking stalls and grooming horses at the Moose Jaw Barns to earn opportunity to ride. At fifteen, she purchased her first horse and her lifelong relationship with horses was solidified. She was a skilled horse person and both she and her horses won many awards over the years. Her most cherished were for riding skills, which she honed to perfection owning, training and partnering with five horses over her lifetime. She was generous with her horse-knowledge.
Teresa began a career as a Saskatchewan Telephones operator in Moose Jaw, straight from high school. Eventually her desire for change overcame her and she transferred to Moosomin, SK. She met Marshall McLeod there, shared him enough with her family to get raving approval and their life together as farmers began! Marrying a pilot allowed her to get gardening ideas from an 800 foot bird's eye view and she began creating a paradise of greenery that was her work in progress for a lifetime. She quickly found like-minded individuals whose interests met hers: gardening, painting, karate, cross-country skiing, laughing, horses and music, music, music.
With her Dad's fiddle in tow, Teresa attended the Emma Lake Fiddle Camp for eight years, gathering musical friends and respect and friendship from instructors. In more recent years, Teresa attended various 'jams' in Southeastern Saskatchewan – if not to play, then to listen and tap a toe.
While avidly practising her many 'loves', Teresa also worked at the Post Office, as an aide with challenged children at the local school, and, for many springs, at the local greenhouse. There, she met her beloved "dirt sisters", an extra special group of rare, raucous, loving, supportive and exuberant friends! Lucky Teresa. With her kindness and humour, she attracted friends — people and animals — everywhere she went.
She loved the outdoors and the adventures to be had. She was strong in body and soul. She was determined. She created a beautiful world for herself and Marsh and welcomed others to enjoy it.
Her battle with cancer brought her back to her Moose Jaw family, leaving behind dozens of friends in Moosomin and area. She will be sorely missed and forever loved.
Special thanks are extended to Dr. Maryam Al-Hayki and nurse Cindy, Dr. Yolanda Marx, nurses and caregivers at both Extendicare and Providence Place Guardian Grove and Teresa's new friends, Diane, Lucille, Celine and Diana to whom her family is grateful for many kindnesses.
A Celebration of Life for Teresa will be held on Wednesday, May 29th, 2019 at 1:00 PM in the Moose Jaw Funeral Home. A second Celebration for Teresa will be held at a later date in Moosomin.
In lieu of flowers, the family gratefully encourages donations to The Cancer Foundation of Saskatchewan, #200-4545 Parliament Avenue, Regina, SK S4W 0G3 https://cancerfoundationsask.ca or The Moosomin Armoury call: 306 435-3413 or 306 435-3636; or The John Arcand Fiddle Festival https://johnarcandfiddlefest.com Arrangements are entrusted to Moose Jaw Funeral Home, 268 Mulberry Lane.  Gary McDowell, Funeral Director 306-693-4550