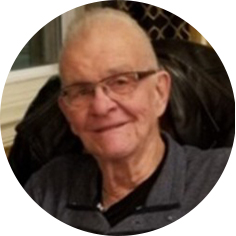 OWEN KENNETH (MICK) MCLEOD
November 25th, 1929 – September 23rd, 2020
Owen Kenneth (Mick) McLeod, a proud veteran of the Royal Canadian Air Force, went home to be with his Lord and Saviour on Wednesday, September 23rd, 2020 at the age of 90 years.
Mick was born in Saskatoon, Saskatchewan on November 25th, 1929 and was the firstborn child of Malcolm (Mac) McLeod and Alice Belle McLeod (née: Cook).  He joined the RCAF in 1948 and thoroughly enjoyed his career in Meteorology and Air Traffic Control, serving in Rockcliffe, St Hubert, Gimli, Claresholm, Saskatoon, 4 Wg Baden-Baden Germany, Moose Jaw, Downsview and Namao, where he retired in 1973 having attained the rank of Captain.  Mick also had a career in Real Estate and worked as a Commissionaire.  For many years, Mick was very involved in Church and Youth work.  He volunteered countless hours to shepherding young people through those difficult teen years.  It was a priority to him that his children understood God's love and forgiveness and the value of a Christian heritage.
He was predeceased by his first wife, Eleanor Bertha McLeod (née: Mullen).  Mick is survived by his beloved wife, Jacqueline McLeod (née: Johnston); daughter, Jan (Jim) Karr of Victoria, BC, their daughter Chelsea (Johnny) Sugrue and great-grandchildren Cohen and Hailey; daughter, Kim (Don) Janzen of Calgary, AB, their daughters Krista (Neil) Dickson and great-grandchildren Chloe and Liam, and Jessame (Shawn) Ross; daughter, Roberta (Lydell) Wenzel of Medicine Hat, AB, their daughter Eryn (Ryan) Comeau and great-grandchildren Celine and Layla; son, Michael (Natalia) Wenzel; step-daughter, Melody (Clayton) Schmale of Turtleford, SK; and sister, Joan White of Chilliwack, BC. 
Due to the current health situation, a Private Family Service will be held.  A viewing of the service will be available on Monday, September 28th, 2020 at 1:00 p.m. at www.moosejawfuneralhome.com/webcast/.  A Time of Visitation for Family and Friends will be held on Sunday, September 27th, 2020 from 7:00 p.m. to 8:00 p.m. in Moose Jaw Funeral Home.  In lieu of flowers, donations in Mick's name may be made to a charity of one's choice.  Arrangements are entrusted to Moose Jaw Funeral Home, 268 Mulberry Lane.  Gary McDowell, Funeral Director 306-693-4550