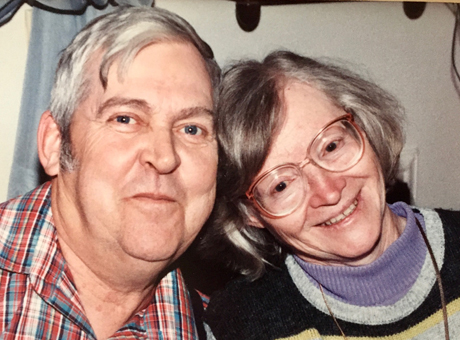 McLennan, Clifford and Phyllis
It is with great sorrow that the families of Phyllis Elizabeth McLennan (née: Orchard) announce her passing on Sunday, February 21st, 2021 at the age of 86 years, along with the passing of her husband Clifford Merle McLennan on Saturday, October 23rd, 2021 at the age of 83 years, both of Bethune, SK. 
Left to cherish their memories are Phyllis' brothers, Allan (Jean) and Edward (Muriel); and sister, Carol (Garth) White; along with Clifford's brother, Stuart (Norma); and special cousin, Lyle Johnson.  They will forever be in the hearts of nephews: Mark, Murray, Kevin, Darrell, Geoff and Trevor; and nieces: Melanie, Nancy, Lori, Heather and Jane; and many more great-nephews and nieces.
Phyllis was predeceased by her parents, Arthur and Ann; brothers, Ronald and Howard; and nephew, Trent.  Clifford was predeceased by his parents, William and Irene.
Phyllis was born on the Orchard family farm near Qu'Appelle, SK on December 27th, 1934.  Upon graduating from school she moved to Regina, SK to work for Saskatchewan Government Telephones.  She met and dated Clifford during this time and soon they were married in June of 1964.  Phyllis was a great source of advice, always able to provide words of encouragement and knowledge.  She loved trying new recipes, especially for desserts, and instilled a love of baking for at least one niece.  She had a wonderful sense of humour, with a positive outlook on life and its many challenges.  
Clifford was born on the McLennan family farm at Bethune on December 3rd, 1937.  Soon after, the family moved into Bethune.  The farm became his life's work and when he met and married Phyllis, he now had someone to share his passion with.  Soon after their marriage they moved onto the farm, working together tending crops, raising cattle and growing gardens.  The farm was their home up until Phyllis became ill in early 2021.  Clifford was a quiet, gentle soul, a man of few words.  He enjoyed the simple pleasures of life – a spring rain, a dry harvest, a good meal and a beer with friends.
Many special moments will be fondly remembered by all of spending time at their farm – a cup of hot chocolate before bed, summer days spent haying and tending garden, warm fall harvests in the fields, and winter visits to the barn to help with cattle chores.  Especially missed will be holiday visits on Boxing Day, where there was always plenty of treats, the opening of Christmas Crackers, and games of Crokinole.
Per their wishes Phyllis and Clifford will be interred at the Bethune Cemetery at a private family service – together forever.  For family and friends so wishing, charitable donations in memory of Phyllis and Clifford may be made to the Cancer Foundation of Saskatchewan, #200 – 4545 Parliament Ave, Regina, SK S4W 0G3 and/or the Bethune Cemetery Memorial Fund, PO Box 172, Bethune SK S0G 0H0.  Arrangements are entrusted to Moose Jaw Funeral Home, 268 Mulberry Lane.  Gary McDowell, Funeral Director 306-693-4550