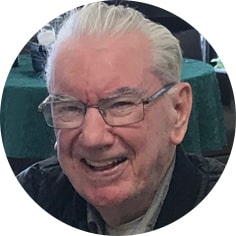 Murray A. McKay passed away on Wednesday, January 1st, 2020 at Central Butte Regency Manor in Central Butte, Saskatchewan, with family by his side.  He was 92 years of age.  
Murray was predeceased by his wife, Ada Belle; parents, John William (Jack) and Olive Martha Isabella (Ollie); sisters, Betty (Hal) Dahlie and Isabel (John) Sawers; stepdaughters, Lettie Rundberg and Linda Chaffer; stepsons, Jerry and Johnny Volpatti.  Murray is survived by his daughter, Rene (Brian) Wandler; sister, Jean Molsberry; stepdaughters-in-law, Jean (Garth) Elrick and June (Mike) Deegan; stepson-in-law, Lionel Rundberg; grandchildren: Larry (Laurie) Rundberg, Randy (Deidre) Rundberg, Tony (Lana) Volpatti, Shane (Karen) Volpatti, Gerilee (David) Kermack, Raymond and Jason Volpatti, Kenny Chaffer, Ron Chaffer, Terrilyn (Sean) Gillies, Geri-Rene Arseniuk, Charmaine Bristow, Tony (Shanna) Wandler, and Randy (Jennifer) Wandler; many great and great-great-grandchildren; as well as numerous nieces and nephews.
Murray was born February 18th, 1927 at Riverhurst, Saskatchewan, attended Pratt School as a child and lived on the family farm, which he eventually took over from his parents, Jack and Ollie McKay.  Murray loved farming and took great pride in his field work, loved his horses, cattle and all his farm animals, but especially loved his dogs (his last two dogs were Chico and Belle).  Murray's sisters and many nieces and nephews speak fondly of Murray and their time at the farm. Memories they all cherished.
Murray married Ada Volpatti (née: Olson) on February 10th, 1968 and inherited quite a large family: daughter, Rene; stepdaughters, Lettie Rundberg and Linda Chaffer; stepsons, Jerry and Johnny Volpatti; and eleven grandchildren.  Murray thoroughly enjoyed the grandchildren and especially enjoyed playing practical jokes on them. A few of the grandchildren spent extended periods of time on the farm and in Riverhurst with Murray and Ada.  Rene was the only one to live on the family farm as Lettie, Jerry, Johnny and Linda were all married and on their own when Murray and Ada married. Murray was proud to legally adopt Rene as his daughter.
Murray retired from farming in 1977, built a house (Bar Five) along Lake Diefenbaker, and then retired to Riverhurst in 1980.  After retirement, Murray worked for farmers during seeding and harvest. Murray and Ada enjoyed many winters driving south with the Fleury motorhome to Nevada, Arizona, California and Mexico.  Murray always enjoyed socializing with family and friends and we can't forget the entertaining gatherings at the 'MurrAda'. He enjoyed carpentry work and gardening and some of his friends experienced his excellent barbering skills!  A few of Murray's nicknames over the years were Murphy, Klinger (MASH) and Archie Bunker.
Murray became a resident of Central Butte Regency Manor in Central Butte, Saskatchewan in March 2013.  The family wishes to express their heartfelt gratitude to the doctors, nurses and staff at Central Butte Regency Manor for Murray's excellent care.  It was appreciated so very much.
Due to the current health situation, a Private Family Service will be held at Riverhurst Cemetery.  A private family interment will be held at Riverhurst Cemetery.  Family would appreciate it if anyone would share their memories and pictures, either at the Celebration of Life, on Moose Jaw Funeral Home website, or forward them to his daughter Rene.
As an expression of sympathy, donations in Murray's name may be made to the Central Butte & District Health Foundation Inc, PO Box 582, Central Butte, SK S0H 0T0 or to the Central Butte Regency Manor Auxiliary, PO Box 361, Central Butte, SK S0H 0T0.  Arrangements are entrusted to Moose Jaw Funeral Home, 268 Mulberry Lane. James Murdock, Funeral Director 306-693-4550.