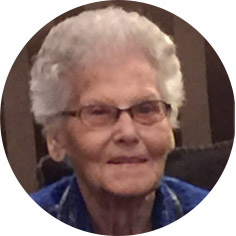 FLORENCE VALENTINE MCINTYRE
February 14th, 1924 to June 17th, 2020
It is with heavy hearts that we announce the passing of our beloved Mother, Grandmother, GG, and Great-Grandmother, Florence Valentine McIntyre.  She passed away peacefully on Wednesday, June 17th, 2020 with Kirsten at her side and her family close by.  She is now reunited with the love of her life, Bob, as well as with many family members and friends.  She was predeceased by Robert (Bob), her husband of 54 years; parents, Florence and Alfred Woodward; and sister, Alfreda Thomsen.  Florence was born and raised in Gull Lake, SK.  She lived in Hamilton with her sister Mabel and then settled in Regina, SK where she met Bob.  Bob and Flo were married on July 10th, 1947 and lived, in love, for 54 years.  Florence moved to Moose Jaw in 2002 where she resided until her passing.  Florence had many hobbies and interests, but her love of family (both blood relatives and extended family), and her travels with Bob were two of the most important things to her.  She was very proud that she and Bob traveled coast to coast in Canada and saw most of the states in the USA.  She said that they had so many good trips, it was hard to pick any one that was their favourite. 
Florence loved taking care of her home and her family.  She leaves behind, to honour and celebrate her life, her daughters:  Betty and son-in-law Emile Perrey and their children: Sandra-Lynne (Rodney) Sawa, Kevin (Nick) Perrey and Trevor (Amy) Perrey; and Dianne Newman and her family, Kirsten and Ian Clark.  Flo lived for her family but there was a very special place in her heart for her great-grandchildren: Keaton, Lachlan, Preston, Zada, Zackree and Elijah.  She also leaves behind her sister, Mabel Burns; her nieces and nephew: Janice Neufeld (Thomsen), Robert Burns and Janet Burns; as well as several great-nieces and nephews.   
Those who knew Florence loved her and she loved her extended family, of which there are many.  She saw them all as her children, nieces, nephews and grandchildren.  She felt so blessed to have them in her life, as were they. 
Florence has been reunited with Bob, and they will find their final resting place on their anniversary – July 10th, 2020, where there will be a private family celebration of their life. 
In lieu of flowers, memorial donations may be made in Florence's name to the Saskatchewan Professional Firefighter's Association Burn Fund c/o Moose Jaw Firefighters Association Local 553, 1205 Main St N, Moose Jaw, SK S6H 3M3, in honour of the firefighters in her life.  Arrangements are entrusted to Moose Jaw Funeral Home, 268 Mulberry Lane.  Andrew Pratt Funeral Director 306-693-4550