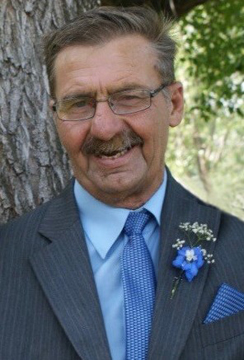 Robert (Bob) Gordon McEwen
Robert (Bob) Gordon McEwen, aged 74 years of Moose Jaw, Saskatchewan, passed away on Monday, September 12th, 2022 from prolonging health issues, surrounded by his loving family.
Bob was born on November 8th, 1948 to Victor and Ellen McEwen in Craik, Saskatchewan.  After finishing school in 1966, Bob started working for various farmers in the Craik/Aylesbury area.  In 1968, Bob joined the army for two years.  After returning, he worked for P.H. Construction fixing elevators all around Saskatchewan.  This is where he found his love for carpentry.  While working for Dura Construction, Bob received his journeymen.  He then went on to work for Cardinal Construction and then Paice Construction.  After his first stroke, when he could no longer do construction, Bob worked at Mosaic Place serving patrons.  Bob's last job was working for K&H Mosaic Potash mine as a security guard for 2 years.
During this time, in 1993, Bob met Doris Simoneau and they wed in 1996 at Grandview United Church in Moose Jaw, Saskatchewan.  Bob immediately accepted her children as his own.
Bob was a sincerely caring man, always thinking of others before himself.  Bob was a force of nature.  Even after his first stroke 12 years ago, he held a full-time job, taught himself to write with his left hand, and rigged his truck so he could drive.  He never complained about his disability.  Bob's family meant more to him than anything else in the world.  He attended every event until his health kept him from going.
Bob was a passionate carpenter and would often be doing odd jobs for his family.  He also enjoyed taking care of the yard.  Bob was always busy doing something and rarely sat down.  A second stroke in 2016 put him in a chair.  It was extremely hard for him to adjust being stranded in the chair, but he still put on a brave face around his family and always enjoyed visiting with people, especially his grandkids.
Anyone who knew Bob knew that he was the most loving father and husband a family could ask for.  He was predeceased by his father, Victor McEwen; mother, Ellen McEwen; and infant son, Anthony McEwen.  Bob is survived by loving wife, Doris McEwen; child, Evan McEwen (Bobbi) and grandchildren Shylo McConnel (Sophie Koster), Daylen McEwen, Benjamin Tischer Ogg; step daughter, Cindy (Mark) Smith; granddaughters, Hailey Therens and Emma Therens; step-son, Alain Simoneau (Angela); granddaughter, Neva Simoneau; step-son, Jahson Simoneau (Jessica); granddaughter, Lily Simoneau; brother, Ken McEwen (Karin); niece, Shannan (Blair) Nicholson; nephew, Dale McEwen (Christie Bjolverud); niece, Kristyn McEwen; brother, Don (Joselyn) McEwen; nephews, Donnelly (Jackie) McEwen and Harley (Aimee) McEwen; brother, Doug McEwen (Robynn Hamilton); nieces: Amber Thedroff, Kelsey Thedroff (Devon Angus), and Kyleigh Coad (Colin); sister, Pat White; niece, Erin White-Manwaring (Peter); as well as numerous great-nieces and nephews.
A Celebration of Bob's Life will be held on Friday, September 23rd, 2022 at 1:00 p.m. in Moose Jaw Funeral Home with Pastor Marvin Seaborg officiating.  As an expression of sympathy, donations in Bob's name may be made to The Moose Jaw Humane Society, Box 1658 Station Main, Moose Jaw, SK S6H 7K7.  Arrangements are entrusted to Moose Jaw Funeral Home, 268 Mulberry Lane.  Michelle Ellis, Funeral Director 306-693-4550