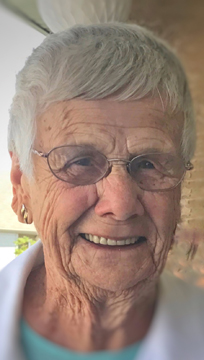 THELMA EILEEN MCDOWELL (née: Thornley)
December 25th, 1925 – July 9th, 2023
After 97 years of life as an independent, strong-willed, and feisty woman, Thelma Eileen McDowell succumbed to a brief respiratory illness on Sunday, July 9th, 2023.  Eileen was born in Nuthall, Nottinghamshire, England but moved to London as a young woman to serve in WWII.  During the war, she met her future husband, William (Bill) McDowell and they were married on September 30th, 1944.  Subsequently, Eileen immigrated to Canada as a war bride, arriving in January 1945 at Pier 21 in Halifax, NS and then headed westward to Saskatchewan.  Later in her life she revisited Pier 21 and was pleased to see a plaque commemorating her arrival.  Eileen was predeceased by her husband, Bill; and two of her children, Michael (Mike) McDowell and Carol Humphreys (née: McDowell).  She was also predeceased by her two brothers in England, Cyril, and Ken; their respective partners, Mae and Anne; and niece, Elizabeth.
In her younger years, Eileen enjoyed ballet and tap dancing.  While raising a family she somehow managed to find time to be a devoted gardener on their beloved farmstead, as well as biking along the country roads and being an avid walker, an activity she continued with just days before her death.  England always felt like home to Eileen, but she loved her summer vacations at Katepwa Lake Beach, a place she liked to revisit in her later years, as well as Buffalo Pound Lake.  Eileen always liked to look her best and always had a strong sense of fashion, including having perfectly groomed hair and the brightest pink fingernails that any of us had ever seen just days before she became ill.  In her later years, Eileen loved spending the winter in Vancouver, BC walking along English Bay, and of course shopping for new clothes.  Eileen's most significant hobby however was being involved with the Canadian Figure Skating Association.  She was an active volunteer on numerous committees and was a figure skating judge for many years.  She was particularly honored when she was invited to Toronto to receive the Canadian Volunteer of the Year Award for her involvement in the sport she loved so much.
Eileen is survived by a large immediate family including her 4 children: Pat Supynuk (Jim), Bryan McDowell (Patricia), Kel McDowell (Robert), and Terri McDowell; and husband of Carol (deceased), son-in-law Warren Humphreys.  She has 7 grandchildren: Kerri, Michael (Sharon), Lianne (Darrell), Cheryl (AJ), Ken (Morgan), Chad (Sarah), and Stacey; and 8 great-grandchildren: McKenzie, Emilie, Ashton, Brooklyn, Alivia, Cayden, Mason, and Huxton.  She is also survived by her niece, Susan Clark and family in England; and 2 sisters-in-law, Rita and Elda in Canada.  She will be missed by her many surviving friends, including her best friend, Pat Jatis in Calgary, AB, and the many who have gone before her.
The family would like to thank the staff at Providence Place in Moose Jaw, SK for the loving care they provided for Eileen during her 11 months of residence there.  In true Eileen fashion, she requested there be no Funeral Service or any fuss about her upon her passing.  There will be a celebration of her life announced later, where friends and family will be able to congregate and discuss the life of this remarkable woman.  In lieu of flowers, donations in Eileen's name may be made to the Heart and Stroke Foundation of Saskatchewan, 100-119 14 Street NW, Calgary, AB T2N 1Z6 or a charity of one's choice.  Arrangements are entrusted to Moose Jaw Funeral Home, 268 Mulberry Lane.  Gary McDowell, Funeral Director 306-693-4550