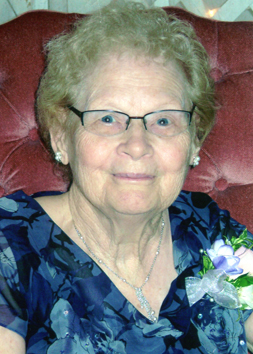 Lenore Josephine McDowell
Lenore Josephine McDowell went home to be with her Lord and Savior on Saturday, April 9th, 2022 at the age of 91 years.  Lenore was born at Davidson, SK on July 30th, 1930 and she lived there until moving to Moose Jaw, SK in the early 1950's with her parents and sisters.  She married Wilmer McDowell on Wednesday, June 20th, 1956 and they made their home on the family farm in the Grayburn district, where they farmed for many years.  Lenore always loved the outdoors and took great enjoyment in her large garden.  She was an animal lover and always had a dog and many cats while living on the farm.  In later years she loved to travel and take bus trips, which brought much enjoyment to her life.  She especially enjoyed her trips to Branson and family trips to Disneyland and Disney World.  Lenore was a long-time member of the Moose Jaw Alliance Church and Gideons International.
 
She was predeceased by her husband, Wilmer (2000); father, Rob Johnston (1989); mother, Fern (née: Olson; 2016); sisters, Isabelle Higgins and Shirley Andrews; brothers-in-law: Mick McLeod, Ralph Juhnke, George Higgins, Everett Andrews and Bob Crawford; and brother-in-law and sister-in-law, Keith and Muriel McDowell.  Lenore is survived by her two sons, Wayne (Iris) and Gary (Tracy); three granddaughters, who brought much joy to her life: Ashleigh, Danae (Taylor) Epp and Aimee (Brendan Bonagofsky); two great-grandsons, Noah and Gabriel Epp; sisters: Jackie McLeod, Betty Juhnke, Paulette Crawford and Judy (Darl) Gray; as well as many nephews, nieces and cousins.
A special thank you to Dr. Amanda Waldner for the wonderful attention and care she gave to Mom the last couple years, as well as to the nursing staff and caregivers at Pioneers Lodge Golden Road.
Mom you have been such a special part of our lives,
we will never forget you.

"I have fought the good fight, I have finished my course,
I have kept the faith."
2 Timothy 4:7
A Funeral Service to honour Lenore's Life will be held on Wednesday, April 27th, 2022 at 11:00 a.m. in Moose Jaw Funeral Home.  Pastor Walter Engel will officiate and Mom will be laid to rest beside Dad in Rosedale Cemetery.  Those not able to attend are invited to view the service virtually by going to www.moosejawfuneralhome.com/webcast/.  As an expression of sympathy, donations in Lenore's name may be made to the Moose Jaw Health Foundation, 55 Diefenbaker Drive, Moose Jaw, SK S6J 0C2 or The Gideons International in Canada, P.O. Box 3619 Stn Main, Guelph, ON N1H 9Z9.  Arrangements are entrusted to Moose Jaw Funeral Home, 268 Mulberry Lane.  Gary McDowell, Funeral Director 306-693-4550