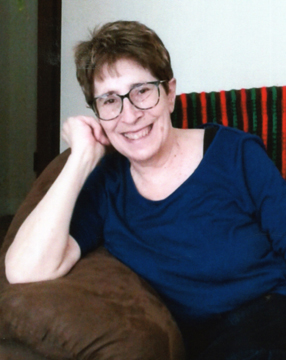 Louise (Lou) Marie McAuley
It is with great sorrow that we announce the passing of our loving, courageous, generous, kind, witty, and often sassy mother, grandmother, sister, and friend, Louise (Lou) Marie McAuley.  After a courageous battle with cancer, Lou passed peacefully at home and surrounded by family in the early hours of Friday, March 31, 2023.  Lou is survived by her son, Keith Allen McAuley (partner, Carrie Allen); grandson, Jesse Reese McAuley (partner, Brittney McLean); sister, Denise Lechelt; and an extended family of wonderful friends too numerous to mention.
Lou was born in 1955 in Nipigon, Ontario to parents Laurent and Gabrielle Routhier.  She spent her young life there until her marriage in 1972.  As a military wife, she lived in Germany and Holland before returning to Canada.  Lou moved to Moose Jaw with her family in 1979.  From the first moment, Moose Jaw was Lou's home and sanctuary.  She followed her husband to Goose Bay for two years in the late 80's but was quickly drawn back by the love of her friends following her divorce. 
Lou worked at Valley View Center for more than 30 years.  She met many of her lifelong friends there and loved the residents like family.  She was devastated when Valley View closed.  Lou never stopped wondering where the residents were and how they were being cared for.
Lou defined herself through generosity and always lead with her heart.  She was the first person to volunteer her help, her friendship, a listening ear, or a kind word.  Visits with Lou were often punctuated by marathon shopping sprees at local thrift stores, and garage sale bargain hunting.  She loved Yahtzee, wing nights with friends, and going on new adventures with her family. 
Lou's compassion and wit were magnetic and her humour was infectious.  Lou's favorite sound – second only to music – was laughter.  With a remark, an act of clumsiness, or an intentional prank, Lou had the ability to introduce humour into almost any situation.  While often politically incorrect, her heart rarely failed to shine through.  Her intention was always to bring a ray of sunshine into everyone's day.  She will be greatly missed by many.  
Please join us for a Come-and-Go Tea in celebration of our amazing 'Momma Lou' on Friday, April 7th, 2023 from 1:00 to 3:00 p.m. in the Harvey Room at Moose Jaw Funeral Home.  In lieu of flowers, donations in Lou's name may be made to Joe's Place Youth Centre, 402 Main St N, Moose Jaw, SK S6H 3K2.  Arrangements are entrusted to Moose Jaw Funeral Home, 268 Mulberry Lane.  Andrew Pratt Funeral Director 306-693-4550