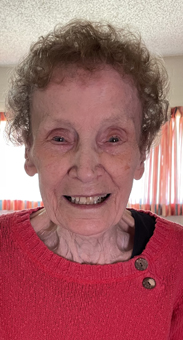 Annie (Ann) McArthur (née: Holowaty) passed away peacefully on Saturday, February 12th, 2022 at the Dr. F.H. Wigmore Regional Hospital, with family by her side.  Ann was born on May 19th, 1931 to parents Eli and Anastasia Holowaty of Foam Lake, Saskatchewan.
Ann was raised and educated in Foam Lake, SK.  After finishing Grade 12, she moved to Moose Jaw, SK and completed a business course.  Ann had many interesting jobs such as the "bag factory", Joyners office, Robin Hood Mill, the Provincial Government Hospitalization Office, and the Auto License Department.  She retired in 1987 as Deputy Registrar for the Land Titles Office.
Ann married Robert (Bob) McArthur in 1956 and enjoyed many trips to the Western Provinces and the US, enjoying the odd casino and horse races.  They had one daughter, Laurie, in 1960.
Ann loved her sports including curling, the Blue Jays, and the Saskatchewan Roughriders.  She was a huge fan of her granddaughters' sports and loved to watch all their school sports, but her favourite seemed to be Ladies Fastball.  She very rarely missed a game at the ball diamonds cheering Jenn, Jess, and their friends on and loved going with us to their tournaments.  Her granddaughters were her pride and joy.  Derek Chan and Derek Kosloski joined our family and Ann was blessed to have four great-grandchildren: Rowan, Bodhi, Parker, and Quinn.  The family pets held a special place in her heart as well: Buddy, Nipper, Reggie, Diesel, Jake and Brie.
She was predeceased by her parents, Eli and Anastasia Holowaty; husband, Robert (Bob) McArthur; brothers: Peter (Lena) Holowaty, Bill (Mary) Holowaty, Metro (Myroslawa) Holowaty, John (Annie) Holowaty, Steve (Lily) Holowaty, Nick (Rosie) Holowaty, and George Holowaty; sister, Mary (Steve) Zadorozniak; sisters-in-law: Lena, Mary, Myroslawa, Annie and Rosie (Holowaty); brothers-in-law, Steve Zadorozniak and Fred Bonar; and in-laws: Dugald and Marion McArthur, Fraser and Anne McArthur, and Gordon McArthur.  Ann will be lovingly remembered and survived by her daughter, Laurie (Kelly) Wiens; granddaughters, Jennifer (Derek) Chan and Jessica (Derek) Kosloski; great-grandchildren: Rowan and Bodhi Chan, Parker and Quinn Kosloski; special remaining family: sister, Katy Bonar; brother, Mike Holowaty; sister-in-law, Lily Holowaty; as well as numerous nieces and nephews.
We wish to express our sincere thanks and appreciation to our relatives and friends for their kind words and expressions of sympathy.  Thank you so much for all the care Mom has been given, especially in the last few months, from Dr. G.B. Van Heerden, EMS, the Dr. F.H. Wigmore Regional Hospital Staff, Pioneer Lodge Transition, and Extendicare.  Your kindness and care for Mom was so comforting and will always be remembered.
We love you Mom, "Big Grandma" ("Big Baba"),
You hold a special place in all our hearts, DITTO!
Vichnaya Pamyat!
A Private Family Service will be held on Thursday, February 17th, 2022 at 1:00 pm with Reverend Doug Shepherd officiating.  Friends and family are invited to watch the service virtually by going to www.moosejawfuneralhome.com/webcast/.  Flowers are gratefully declined.  As an expression of sympathy, donations in Ann's name may be made to The Canadian National Institute for the Blind, 2160 Broad St, Regina, SK S4P 1Y5 or The Moose Jaw Humane Society, Box 1658 Station Main, Moose Jaw, SK S6H 7K7.  Arrangements are entrusted to Moose Jaw Funeral Home, 268 Mulberry Lane.  Todd Sjoberg, Funeral Director 306-693-4550