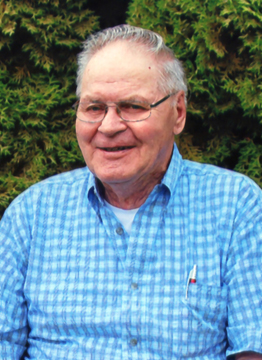 July 13th, 1935 – January 11th, 2023
Orval May passed away quietly in Moose Jaw, SK on Wednesday, January 11th, 2023 at the age of 87 years.  Orval was born in Moose Jaw the second of three sons born to Earl and Mabel May of Secretan, SK.  Orval attended school in Secretan and Chaplin, SK.  Then, he set out in the work world with CP Rail, custom combining, and as a mechanic in Central Butte, SK at the Massey dealership.
Orval married Helen Lasota in 1958, built a successful family farm and raised 5 children.  Orval was very active in the community.  He played, coached and was referee for hockey in Chaplin and Central Butte; and played, coached and umped fastball in Pine Lake and Central Butte.  He also curled and drove the snow plough.  Orval was a trustee for the Central Butte School Board and was a councillor for the R.M. of Chaplin.  He greatly enjoyed visiting and playing cards.  Orval was predeceased by his wife, Helen in 1999.  
Delores Perry became a part of Orval's life.  They shared many happy times including dancing, playing cards, travelling, music festivals, and attending different events including grandchildren activities.
He was predeceased by Helen; his parents, Earl and Mabel (née: Derringer); and brothers, Gordon and Kenneth.  Orval is survived by his children: Lional May (Edmonton, AB), Linda and Jim Hryniuk (La Ronge, SK), Gary and Sharla May (Central Butte, SK), Doug and Tracey May (Riverhurst, SK), Sandy May and Mark Kaye (Pincher Creek, AB); as well as 12 grandchildren and 10 great-grandchildren.  
The Funeral Service will be held on Wednesday, January 18th, 2023 at 11:00 a.m. in Moose Jaw Funeral Home.  Pastor Marvin Seaborg will officiate and interment will take place in Rosedale Cemetery.  Those not able to attend may view the service virtually by going to www.moosejawfuneralhome.com/webcast/.  In lieu of flowers, donations in Orval's name may be made to the Heart and Stroke Foundation of Saskatchewan, Unit 26 – 1738 Quebec Ave, Saskatoon, SK S7K 1V9.  Arrangements are entrusted to Moose Jaw Funeral Home, 268 Mulberry Lane.  Gary McDowell, Funeral Director 306-693-4550