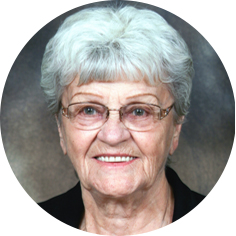 With a heavy heart and great sadness, Mary Margaret Matwiy passed away on Wednesday, December 23rd, 2020 with her family by her side.  She was born May 6th, 1927 and was 93 years young.  Mary will be missed.
She was predeceased by her parents, Albert and Natalie Pielak; siblings: Joe (Hilda), John (Maria), Helen (John), Phyllis (Joe), and Fred (Julie); son-in-law, Stu; and her fur companion Lucky.  Mary had many rolls throughout her life.  She was a sister, mother, foster mom, grandma, and GG (great-grandma).  She lived a very full life with 4 beautiful children: Dave (Phyllis), Valerie (Stuart), Shirley (Brian), and Della (Norman); grandchildren: Crystal (Travis), Shaun (Adrienne), Trevor (Jackie), Rhealene (Daryn), Deryl (Maureen), Cory, Charlene (Toni), Shayla (Daniel), Ashley (Raelyn), and Rebecca (Tyrell); and 28 great-grandchildren and 7 great-great-grandchildren; all of which she took great pride in.
Mary, known by some as Marysia, had many talents and passions.  She had an avid green thumb, was a self-taught painter and artist none the less, and was a very active woman.  Mary played years of baseball, curling and bowling, and had a passion for dancing.  She also possessed a very infectious sense of humour.  
That we once enjoyed and deeply loved, we can never lose, for all that we love deeply becomes part of us. – Helen Keller
A Private Family Service will be held to honour Mary.  Arrangements are entrusted to Moose Jaw Funeral Home, 268 Mulberry Lane.  Andrew Pratt Funeral Director 306-693-4550