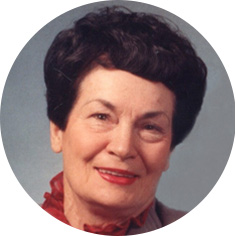 Fern Irene Marteniuc, aged 101 years of Moose Jaw, SK passed away on Thursday, June 4th, 2020.  Fern's parents, Earl and Mary Jackson, emigrated from Itasca, Wisconsin in 1906 to the Palmer, Saskatchewan district.  She was predeceased by her parents; husband, John Marteniuc; brother, Claire; a brother in infancy; and sisters: Faye Mathews, Rachel Ward, Clella Hamilton, Ruth Jackson and Zella Jackson.  Fern is survived by her sisters-in-law, Elsie Heshka (Steve – deceased) and Minnie Mikula (John – deceased); as well as numerous nieces, nephews and extended family.  
On September 19th, 1951 Fern was married to John Marteniuc.  She worked at Swift Meats and Moose Jaw Co-op for a long period of time.  She had a great love of animals, particularly her horse Blacky from the farm.  Fern was a devoted member and sister of the Kingdom Hall of Jehovah Witnesses.  
Fern had an incredible sense of style, even up until the age of 100 years she would be seen wearing a hat, high heels and lipstick.  She took great pleasure in providing anyone with the rewards of her massive vegetable garden, which showed her true generosity.  Family will remember that if you were invited to Aunt Fern's home, you were always presented with ginger ale, chocolate macaroons and homemade popcorn.
Thank you to Marie and Selena and "the girls" at West Park Crossing for their wonderful care.
Fern was so loved by all of her family, she treated all of us the same and welcomed us with open arms.  May she rest in absolute peace.  Auntie Fern's kindness and love to all of us was a true inspiration that we will treasure always.
"We had a wonderful aunt, one who never grew old,
her smile was made of sunshine and her heart was solid gold."
Due to the current health situation, a Memorial Celebration to honour Fern's life will be held at a later date in Moose Jaw Funeral Home when gatherings are once again permitted.  As an expression of sympathy, donations in Fern's name may be made to a charity of one's choice.  Arrangements are entrusted to Moose Jaw Funeral Home, 268 Mulberry Lane.  James Murdock, Funeral Director 306-693-4550