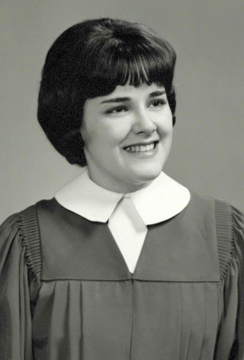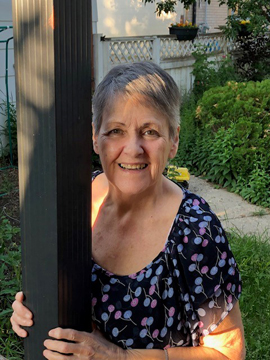 Linda Marie Marshall (née: MacInnis) aged 77 years of Moose Jaw, SK, passed away peacefully on Wednesday, April 19th, 2023 at Crescent Park Retirement Villa after a long battle with dementia.
Linda was born on December 8th, 1945 in Cape Breton, Nova Scotia to Mildred (Rudderham) and Russell MacInnis, the middle of 5 children.  She was raised in Cape Breton where she developed a passion for music.  Linda took singing lessons as a child and in high school joined the Beinn Bhreagh Chorale singing group which traveled around Cape Breton.  The Group recorded a record which they sold locally.  Linda moved from Nova Scotia to Moose Jaw in 1972 where her love of music continued.  She enjoyed watching musicals and learned to play the clarinet.  She joined the Moose Jaw City Band and Military Band, in which she travelled around playing music at different events and in different cities.  Later she joined a choir with the Zion United Church of Moose Jaw.
Linda took an administrative course in Nova Scotia and worked in Halifax for a few years before moving to Moose Jaw, where she took up employment in law offices.  Later she worked for the Moose Jaw Public School Board of Education, from which she retired in 2002.  
Linda met her husband, Arthur Marshall, in Moose Jaw in 1973 and was married in 1975.  They liked to travel to places like Las Vegas, Mexico, Arizona, and across Canada.  They had one daughter and two grandchildren.  
She was predeceased by her parents, Mildred and Russell MacInnis; brothers-in-laws: Keith Marshall, Leslie Marshall, Harold Marshall, and Del McEwan.  Linda will be lovingly remembered by her husband, Arthur Marshall; daughter, Kari Cole (Marshall); son-in-law, Dana Cole; grandchildren, Skylar and Everly Cole; sister, Judy (Charles) Henriques; brothers: Rollie (Judy) MacInnis, Rick (Pearl) MacInnis, and Dean (Esmerelda) MacInnis; sisters-in-law, Shirley McEwan and Marlene Marshall; brothers-in-law, Bob (Marcia) Marshall and Ron (Ann) Marshall; as well as many nieces, nephews, cousins, and dear friends.
Special thanks to Sharon Cole and the staff of Crescent Park Retirement Villa for their care and support over the years.
A Service Celebrating Linda's Life will be held on Saturday, April 29th, 2023 at 1:30 p.m. in Moose Jaw Funeral Home.  Those not able to attend may view the service virtually by going to www.moosejawfuneralhome.com/webcast/.  In lieu of flowers, donations in Linda's name may be made to the Alzheimer Association of Saskatchewan, 301 – 2550 – 12th Ave, Regina, SK S4P 3X1.  Arrangements are entrusted to Moose Jaw Funeral Home, 268 Mulberry Lane.  Cara Ashworth – Intern Funeral Director 306-693-4550