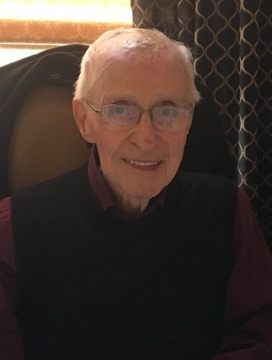 Douglas Gordon Marr, MSM, CD
Douglas Gordon Marr, MSM, CD, was born January 1
st
, 1929 in Saint John, NB and graduated from vocational school, having achieved valedictorian standing in academics and a three-year commercial class.  Doug passed away on Friday, April 7
th
, 2023 in Moose Jaw, SK. 
In 1952 Doug joined the Royal Canadian Air Force and served in Whitehorse, Halifax, Baden-Soellingen Germany, and 15 Wing Moose Jaw, where he retired from regular service in 1974. 
Doug spent 10 years working for the City of Moose Jaw as Economic Development Director, during which time he achieved a certificate in economic development studies and was a member of the Saskatchewan Economic Developers.  After retirement from the city, he spent two years working with the Catholic Bishop of Gravelbourg and then assisted a local firm in converting accounting books to computer accounting. 
In 1953 Doug married Catherine Popien of Neepawa, MB, who survives him, and they had two children, Catherine Ann (deceased) and Greg, living in Regina, SK. 
Doug served on the Canada Day committee for more than 25 years, was a member of Rotary International, was on the board of the Moose Jaw Union Hospital for three years, spent six years on the board of Providence Place and continued to volunteer there for many years.  He was a long-time member of Moose Jaw Canadian Club and worked for many years on Transport 2000.  He was chairman of the 1978 Diamond Jubilee Committee for the City of Moose Jaw and later served on the city's centennial and millennium celebration committees, assisting the city and province with several visits from members of the Royal Family.  He was an active member of St. Joseph's parish and a long time member of the Knights of Columbus. 
Doug was the first person to be appointed Honorary Colonel of 15 Wing Moose Jaw in 1996 and held that position for 11 years.  He served as president of the Honorary-Colonels' Club.  He was a charter member of the 15 Wing Fellowship and continued as an honorary member of what is now the Friends of the Forces Fellowship. 
His awards included the City of Moose Jaw/Heritage Moose Jaw and Cultural Centre Award, his military CD, the Atlantic Treaty Medal, Canadian Centennial Medal, Queen's Jubilee Saskatchewan Centennial Medal, and the Military Meritorious Service Medal. 
Predeceased by his parents, Harry and Ann Marr, brothers Raymond, Murray and Robert, and daughter Catherine Ann, Doug is survived by his wife, Catherine; son, Greg; numerous cousins, nieces, and nephews; as well as many long-time friends. 
The Funeral Mass will be celebrated on Friday, May 5th, 2023 at 11:00 a.m. at St. Joseph's Church, 1064 3rd Ave NW, Moose Jaw, SK.  Interment will take place in Rosedale Cemetery at a later date.  As an expression of sympathy, contributions to the Moose Jaw Right to Life, 1010 Main St N, Moose Jaw, SK S6H 3K8 would be appreciated by the family.  Arrangements are entrusted to Moose Jaw Funeral Home, 268 Mulberry Lane.  Andrew Pratt Funeral Director 306-693-4550