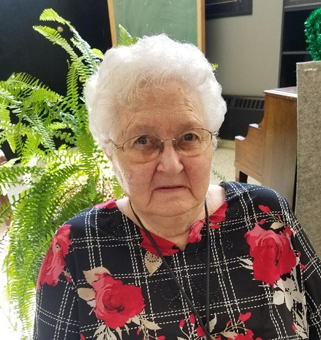 MANSKE
October 27, 1934 – May 23, 2021
Joyce was predeceased by her parents, Ethel and Ernest Noble and brother, Donald Noble. She is survived by her dedicated husband, Irwin Manske, of 67 years.  Three daughters, Yvonne Dyck (Elmer), Maxine Sesula (Dwayne), Lorelea Manske; grandchildren: Larissa Sych (Matt), Steffen Rommelaere, Dylan Rommelaere (Savanna), Summer Okerstrom; siblings, Lillian Willford (Les), Gerald Noble (Gladys); sisters-in-law, Bev Noble and Agnes Cairns plus her treasured great grandchildren and her nieces and nephews.  
Joyce attended Mountain Cedar School in her earlier years and completed her education in Coronach.  On October 17, 1953 Joyce married the love of her life, Irwin Manske and together they established their home and family farm.  Added to their family were their three daughters–Yvonne, Maxine and Lorelea.  Joyce treasured every moment with both her immediate and extended family.  Special times included family gatherings, boating at Rockin Beach, numerous games especially crokinole, camping trips, demolition derbies and rodeos.  
In 1987 Joyce and Irwin moved to Moose Jaw.  Joyce's activities in the city included babysitting for the neighbor, working part-time at the Multicultural Centre Daycare and forming friendships with wonderful couples from church.  Later Irwin and Joyce together enjoyed floor shuffleboard, gospel jamborees and camping with their cherished friends.  Joyce and Irwin were also endlessly committed to attending their grandchildren's activities and various sports events.
Joyce will always be remembered for her unwavering faith in God and commitment to prayer for her family and loved ones.  Joyce's life was characterized by her selfless love, gentle spirit and caring attitude.
For the last few years of her life as Joyce's health deteriorated her best friend and husband, Irwin, sacrificially dedicated himself to her care.  When this was no longer possible during the last 10 months Joyce was moved to Chateau St. Michaels where loving staff cared for her, even while family was unable to be present due to pandemic restrictions.
Joyce left this world peacefully on May 23, 2021 with family by her side and will be forever loved and cherished.
Due to the restrictions regarding the current health situation, a Private Family Service will be held.  Friends and Family are invited to view the service virtually on Saturday, May 29, 2021 at 3:30 p.m. by going to www.moosejawfuneralhome.com/webcast/.  
Arrangements are entrusted to Moose Jaw Funeral Home, 268 Mulberry Lane.  Gary McDowell, Funeral Director 306-693-4550