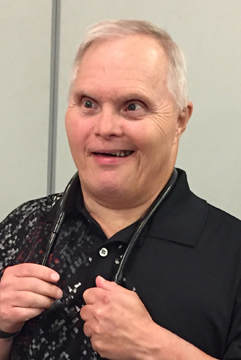 October 4th, 1960 – January 9th, 2023
Michael James Mann aged 62 years of Moose Jaw, SK, passed away peacefully, with family by his side, on the morning of Monday, January 9th, 2023 at Extendicare where he had lived for the past 14 months.
He was predeceased by his father, James (Jim) Mann.  Michael is survived by his mother, Mary Ann Mann; brother, Doug (aka Bud); sister-in-law, Jackie; and niece, Jenna (Marcus).  He is also survived by his aunts, uncles and cousins, including Mike's many 'adopted' cousins.
In his youth Mike attended John Chisolm School where he became an ardent participant in the Saskatchewan Special Olympics.  He also enjoyed bowling and swimming.  Up until 2021, Michael attended (went to work) at Diversified Services and was very proud of his rather large monthly paycheck, all $20 of it!
Michael was fortunate to have been able to live and be raised in his family home by his parents.  He enjoyed spending time at the family farm at Spring Valley, exploring in the trees and riding in the tractor with his dad.  After his dad's passing, Mike remained with his mom, Mary Ann, all the way up to 2019.  He then transitioned into Citizen's All group home (Hoch house) where he thrived with old and new friends.  Michael was dearly loved and was a joy to have in our family.     
Michael, affectionately known as Pickle (thanks dad!), will be remembered not only by how much he loved life but mostly by how much he loved the people in his life.  He never forgot a face and always had a big bear hug for that familiar face.  Anyone who knew Michael knew that he loved to tease and to joke around and would not pass up a chance to make fun!  Michael also was a fanatic for the Moose Jaw Warriors and attended almost every home game with his dad, and then with his mom for the past 30 years.  He was also the ultimate Star Trek Trekkie. 
The family is grateful for the support provided by many caring groups and individuals throughout Mike's life, including: SACL, Diversified Services, Citizen's All, Inclusion Saskatchewan, and a special thanks to the caring staff at Moose Jaw Extendicare.
A Celebration of Mike's Life will be held on Saturday, January 14th, 2023 at 1:00 p.m. in the Harvey Room at Moose Jaw Funeral Home.  In lieu of flowers, donations in Mike's name may be made to Recreation Department at Moose Jaw Special Care Home (formerly Extendicare), 1151 Coteau St W, Moose Jaw, SK S6H 5G5 or Special Olympics Saskatchewan at https://sos.crowdchange.ca/1823/donate.  Arrangements are entrusted to Moose Jaw Funeral Home, 268 Mulberry Lane.  Andrew Pratt Funeral Director 306-693-4550