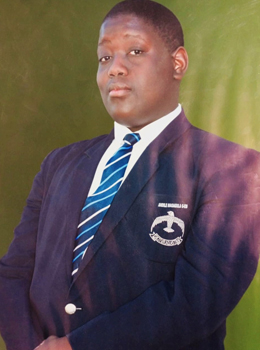 On Saturday, June 5th, 2022 Andile Ace Magagula, the loving son of Sifiso Khumalo and the late Isaiah Magagula (January 27th, 2017), passed away in Moose Jaw, Saskatchewan Canada at the young age of 25 years.
Andile was born on Tuesday, September 10th, 1996 in Bulawayo, Zimbabwe.  Andile was quiet and soft-spoken.  From an early age, he loved reading books and graphic novels, writing poetry, and playing intellectual games.  Andile loved walking, had a passion for video games, and sharing his passion for games with his church family in Moose Jaw.  Andile was a good listener and he made it easy to talk to him.  He also loved technology and had patience to figure things out.  Andile was gentle and if you took time to know him, you would open a window to his part of the world where he could tell you stories about his family farm, his passion, and things that he enjoyed.
In Zimbabwe, Andile attended Centenary Primary School in Bulawayo and later went to Falcon College, an international boys' only high school located about 55 km southeast of Bulawayo.  In his 2nd year of high school (as a sophomore), Andile won second place for one of his poems.  After his (GCE) O-level fourth year in high school, Andile moved to Canada for his post-secondary education and further studies in 2014.
Studying at St Mary's University in Halifax, NS and at Discovery Community College in Surrey, BC, Andile faced systemic structural limitations.  After moving to Moose Jaw, where he was until the time of his untimely death, he was able to explore and expand educational opportunities that allowed him to find his career niche.  Being in Moose Jaw and receiving support from his church allowed Andile to follow his love for culinary arts.
Andile was embraced by the Free First Methodist Church family in Moose Jaw.  Moose Jaw is also a town which allowed Andile to grow, find his footing and gain confidence in finding a career path that he was passionate about.  The church family provided him the space to create and build stronger social networks and develop independence.
Andile Ace was an only child to his mother, and is survived by mother, Sifiso Khumalo; his half siblings, and several cousins, including Patience Thembi Magagula, nieces, and nephews.
A Funeral Service to honour Andile will be held at a later date. In lieu of flowers, the family requests donations in Andile's name be made to the church community that adopted Andile as one of their own, the Free First Methodist Church, 375 Hochelaga St W, Moose Jaw, SK S6H 2G6.  Arrangements are entrusted to Moose Jaw Funeral Home, 268 Mulberry Lane.  Andrew Pratt Funeral Director 306-693-4550