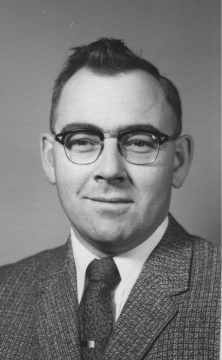 Edward (Ed) Alexander MacDonald
September 1st, 1926 – April 29th, 2023 
Edward (Ed) Alexander MacDonald passed away peacefully in his 96th year on Saturday, April 29th, 2023 at the Moose Jaw Special Care Home (MJSCH).  Ed was born on the family farm near Stony Beach, SK on September 1st, 1926 to his parents, Roderick and Hazel MacDonald.  He was predeceased by his loving wife of over 65 years, Bernice MacDonald (née: Copeman); parents, Roderick and Hazel MacDonald; sisters: May, Mary (Bob) Craig, Flora MacDonald, Mildred James, and Margaret (Ernest) Dragan.  Ed is survived by his son, Roderick (Rod) MacDonald, as well as several nieces and nephews.
Ed met Bernice while he was playing in a fastball game and the couple were wed on June 2nd, 1951.  Ed was an especially devoted and loving family man.  He worked at STI as a MVMR Instructor (he liked to be called The Professor) and was an excellent mechanic.  He made a go-kart for Rod from a Briggs and Stratton washing machine engine and it was so fast that on Rod's initial ride, Ed and Bernice chased after him to stop him from crashing into a wall!  Ed and Bernice loved to go camping and biking, taking many summer trips to Buffalo Pound and other destinations across North America.  He also loved to play softball and was a locally renowned pitcher.  Ed was a loyal Gordie Howe fan and relished watching him play.  Ed loved a good chat and in his later years, cherished his visits with his good friend Bryce.

Ed was a hard working, kind-hearted, patient, compassionate, and wise man.  He will be greatly missed by family and friends, and was loved by many who knew him.  Many thanks to the staff of the MJSCH that gave Ed such special care and attention during his stay.
A Celebration of Ed's Life will be held at a later date.  Arrangements are entrusted to Moose Jaw Funeral Home, 268 Mulberry Lane.  Andrew Pratt Funeral Director 306-693-4550