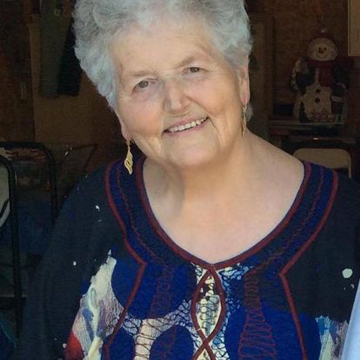 November 28th, 1941 -January 13th, 2023
Like a book whose ending takes you completely by surprise, we did not see this coming.  Just before 3 a.m. on Friday, January 13th, 2023 we witnessed the peaceful freeing of our wife and mother, Jean Karen Lynn, from her earthly bonds and her entry into her heavenly home.
Jean was born in Battle Creek, Michigan, to Max and Rosalinda Beam, the younger sister of brother Rex and sister Nyla.  Not one to seek out mischief, it inevitably found her.  Jean loved adventure and was not one to take a back seat when there were things to discover.  Whether digging for wrigglers for fishing, swimming at Gull Lake where she spent her childhood, or climbing the Three Hills water tower to take in the view, she embraced life fully.  She loved animals and was forever rescuing some poor stranded creature.  Her childhood pet was named Quacky.  She would dress Quacky in doll clothes and push this ever-patient duck around in her doll carriage.
Gerry says that he was smitten the moment he saw Jean because she was the most alive person he had ever met.  Proposing to her on the way home from their first date, Chinese food on Main Street in Banff, Gerry and Jean embarked on the ultimate adventure, marrying just six months after laying eyes on each other.  It was a tale of life enjoyed and trials faced that would span over 55 years.  Camping, canoeing, sailing, and swimming featured heavily in our childhood as did games of catch and scrub.  Jean's father was a minor league pitcher and she took great pride in being able to lob a baseball properly.
Jean was a born organizer and made sure that every detail was taken care of.  She loved people and people loved her.  She touched hearts wherever she went.  She planted.  She watered. She was faithful to speak of the love of Jesus to everyone she met.  One of Jean's favourite things to do in later years was to pray over any new baby she came across.  Many a child and their parents were blessed with the words of the Aaronic Blessing while standing in the grocery aisle.
After retirement Jean and Gerry instead re-treaded and used their skills in short-term missions to Irian Jaya, Niger and Ghana.  In Niger, Jean was thrilled to be present at the birth of a beautiful baby girl who now bears her name.
Jean was the loving and faithful wife of Gerry, and a most beloved mother, grandmother, and great-grandmother to Nyla-Jean and John David de Boer (Julia and Sankalp [Theophil], Jacob, Jonella and Rhett, Gerrit, and Lucinda) and to Andrew and Rebecca Lynn (Joanna, Makayla, Étienne, and Léa).
"(She) has fought the good fight, (she) has finished the race, (she) has kept the faith. Now there is in store for (her) the crown of righteousness, which the Lord, the righteous Judge, will award to (her) on that day—and not only to (her), but also to all who have longed for His appearing." 2 Timothy 4:7-8.
A Celebration of Jean's Life will be held on Friday, March 31st, 2023 at 2:00 p.m. in Moose Jaw Funeral Home with Reverend Dave Nelson officiating.  Those not able to attend may view the service virtually by going to www.moosejawfuneralhome.com/webcast/.  In lieu of flowers please consider making a donation to The Leprosy Mission based in Niger, Africa; a cause close to Jean's heart.  https://www.leprosymission.org/about-us/global-fellowship/niger/  Arrangements are entrusted to Moose Jaw Funeral Home, 268 Mulberry Lane.  Gary McDowell, Funeral Director 306-693-4550