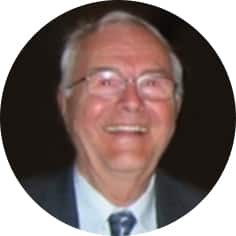 January 3rd, 1929 – January 17th, 2020
Ward Lynch, aged 91 years of Moose Jaw, SK passed away peacefully in his sleep, surrounded by his family at his home, on Friday, January 17th, 2020 after a lengthy battle with esophageal cancer.  He was predeceased by his wife of 42 years, Ethel (née: Lee) in April 1994.  Ward has left behind his partner, Winn Gudmundson of Moose Jaw; and is survived by his three sons and their families: Doug (Shirley) of Strathmore, AB, Gerald (Alice) and Brad (Jan), both of Calgary, AB; grandchildren: Brian (Shannon), Andrew (Lynndy), Robbie (Andie), Erin (Kalib), Jonathan (Trista), Mark, Craig, and Jillian (Mark); great-grandchildren: Maddison, Elyana, Grady, Eden, Abbey, and McKenna; and his sister, Patricia Wepf (Donald and Karen) of Brampton, ON.  
Ward was born January 3rd, 1929 on a farm near Westbourne, Manitoba.  The farm included Lynch's Point Provincial Park, located on the south shore of Lake Manitoba.  Ward was a pipeliner at heart, spending 32 years with TransCanada Pipelines before retiring in 1988.  He started his career on pipeline construction in 1952, ending as the regional manager at Caron, Saskatchewan.  His career took the family to Kenora, Geraldton, Moosomin, Winnipeg, Herbert and Caron. Ward and Ethel retired to Moose Jaw in 1988.  Ward enjoyed family time, old time music, dancing in the earlier years, traveling, trailering and "Music in the Park" in Moose Jaw. In 2011 Ward met Winn and they continued to be very active with traveling and enjoying music.  Their favourite location was Clear Lake in Riding Mountain National Park in Manitoba. Ward could always be found at Winn's semi-weekly jam-sessions at local Senior Centres. Ward was a true gentleman, with many friends and always thankful for what came his way.  
The family expresses their deep appreciation and thank-you to Dr. Amanda Waldner, Dr. F.H. Wigmore Regional Hospital and Five Hills Health Region Palliative Care team in Moose Jaw with special thank-you to Nurse Lisa Tipper.  
A Celebration of Ward's Life will be held on Saturday, January 25th, 2020 from 1:00 p.m. to 3:00 p.m. in the Harvey Room at Moose Jaw Funeral Home.  The celebration will be live webcasted at 1:00 p.m. via www.moosejawfuneralhome.com.  Interment will take place in warmer weather at the Hillside Cemetery in Portage, Manitoba beside Ethel.  
In lieu of flowers, donations in Ward's name may be made to one of his favourite charities, Moose Jaw Health Foundation, 55 Diefenbaker Drive, Moose Jaw, SK S6J 0C2 www.mjhf.org.   
Arrangements are entrusted to Moose Jaw Funeral Home, 268 Mulberry Lane.  James Murdock, Funeral Director 306-693-4550