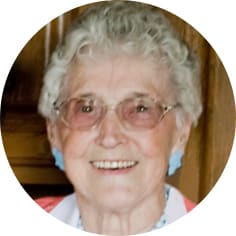 Bernice Irene Lundgren of Tompkins, SK passed away at the Gull Lake Special Care Centre on Thursday, April 30th, 2020 at the age of 97 years.  Bernice McGregor was born in the Vincent Lake area, north of Tompkins on April 26th, 1923, and attended Tompkins School.  She married Leonard Lundgren in 1945, and they farmed on the Lundgren homestead until they moved into Tompkins in 1983.  'Bernie' was a member of the United Church, Rebekah's Lodge and the Tompkins Senior Citizen's Club.  She enjoyed curling, old time dancing, reading, travelling, word search puzzles, and most of all, going for walks.  The path she wore over the years across the Tompkins Golf Course is still visible today.  Bernie and Leonard rarely missed their sons' and grandchildren's sporting events, and in their retirement years they went on several bus trips, and travelled to the USA and Sweden.
She was predeceased by her husband, Leonard; daughter-in-law, Doris Lundgren; parents, Ernest and Ettie McGregor; father- and mother-in-law, Eric and Anna Lundgren; sister, Iona Blanchard; brothers: Les, Earl, Cliff, Glenn and Raymond; sister-in-law, Delores Cameron; and brother-in-law, Bernard Lundgren.

Bernice is survived by her sons, Ross (Ruth Greer) and Kerry (Barbara); grandchildren: Darwin (Amberly), Rhett, Brooke (Travis Rennebohm) and Ashley (Scott Magee); great-grandchildren: Taylor, Cole, Liv, Bo and Wes; as well as several nieces and nephews.  
The family would like to thank the staff of Autumn House and the Gull Lake Special Care Centre for taking such great care of Bernie in her final years.
Due to the COVID-19 pandemic, a Celebration of Bernice's Life will be held at a later date.
Anyone wishing to make donations in Bernie's memory may do so to the Tompkins Community Centre, Box 247, Tompkins, SK S0N 2S0.
Arrangements are entrusted to Moose Jaw Funeral Home, 268 Mulberry Lane.  James Murdock, Funeral Director 306-693-4550.