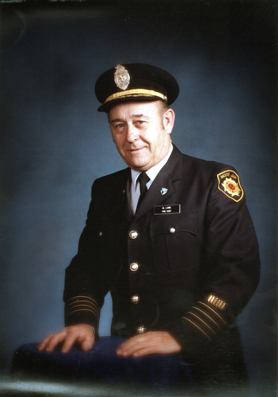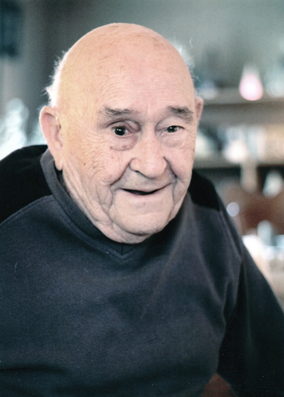 Maurice Raymond Lowe, aged 95 years of Moose Jaw, SK passed away on Monday, May 30th, 2022.  Born in 1927, Maurice grew up on a farm just south of Moose Jaw where as a boy, his entertainment was taking his dog onto the roof of the barn to play harmonica to the dog for hours.  He was good at it and continued to play for his children, grandchildren, great-grandchildren, and anyone who wanted to listen.
Eventually Maurice made his way and moved to Moose Jaw when the rest of his family moved to the west coast.  He got a job at the Grant Hall as a bellhop where he met the love of his life, Anne.  They were married in 1948 and began their life together.  In 1950, their firstborn son Jim came along, with daughters Karen and Bonnie to follow.
In 1952, Maurice joined the Moose Jaw Fire Department and enjoyed the next 35 years moving through the ranks to retire as Fire Chief in 1987.  It was a career he truly loved.
Maurice loved fishing and hunting in his younger years, and dancing with Anne whenever they could.  The Scout Hall had many dances and they were sure to be there dancing the waltz and polka.  It didn't matter what, they enjoyed them all.  As the family grew, Maurice loved to take them camping, especially to the mountains and particularly to Penticton in the summer.  As he grew older, cruising with Anne, and a few times with his kids, became a passion.  Gambling trips was another as well.
As Maurice and Anne moved into their golden years, their house became too much for them and they took up residence in a condo until Anne's passing in 2015.  With Maurice losing his sight and unable to manage alone, he moved to Caleb Village and spent the next 6 years making new friendships with the other residents and staff.  He loved it there and the staff treated him like family, but once again it became too much for him and in October of 2021 he made his final move to Extendicare.
He was predeceased by his wife, Anne; daughter, Karen; his parents, 3 brothers, 1 sister, 2 brothers-in-law, 3 sisters-in-law, and their spouses.  Maurice is survived by his son, Jim (Maureen); daughter, Bonnie (Jeff) Trumbley; son-in-law, Rick Seabrook; grandchildren and great-grandchildren: Ryan (Sara) Seabrook, Josie, Lucas and Camryn, Jered (Leah) Seabrook, Aspen and Chae, Evan (Kelly) Seabrook, Ben and Jake, Tamara (Jeff) Crow, Emily and Alexis, and Andrea Lowe; as well as many nieces and nephews.
A Private Family Graveside Service will be held at Rosedale Cemetery.  Arrangements are entrusted to Moose Jaw Funeral Home, 268 Mulberry Lane.  Cara Ashworth, Intern Funeral Director 306-693-4550