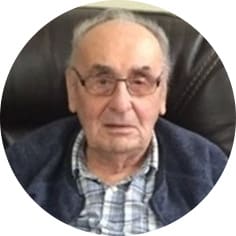 Harry Conrad Lohr, aged 89 years of Moose Jaw, SK passed away on Saturday, May 9th, 2020.  
Harry, Dad, Papa will be sadly missed by his son, Dwaine; daughter-in-law, Karen; granddaughters, Daina and Daityn; as well as his special friend, Dorothy.  He was predeceased by his first wife, Anne Lohr (Oparyk) and his second wife, Fran Lohr (Schulties).
Harry was born in Moose Jaw on August 8, 1930.  He often spoke of his years at Moose Jaw Tech High School and specifically of his sports jersey, #13.  Because 13 was considered an unlucky number, he put a white piece of tape between the 1 and the 3 and whenever he drew a penalty, the referee would call his number as 1/3rd.  In the early 1950's, Harry was asked to join the Saskatchewan Roughriders coaching team.  Unfortunately that was the same year he caught polio and was never expected to walk again.  He walked out of the hospital several months later. 
Harry was a member of the Kinsmen (K40's), the Elks Club, The Vets and the Legion where he enjoyed playing shuffleboard, rummy and cribbage, and the occasional rye and water with lots of ice.  He refereed Minor Hockey and coached Elks Minor Football for several years.  Harry worked at the CPR in Moose Jaw for close to 40 years, his first job was shoveling coal into the boiler of the old steam engines.  In his last years with the CPR before he retired as an engineer, he held the Moose Jaw to Swift Current passenger train run.  Harry enjoyed his retirement years being out at the lake, living at his cabin during the summer months.
Sincere thanks to the nursing staff at the Dr. F.H. Wigmore Regional Hospital.  Your attentive care and kindness to my father was greatly appreciated.  To the staff at the Chateau St. Michael's, thank you for caring for my Dad for the past 3 years.
Due to the current situation with Covid 19, A Private Family Service will be held.  As an expression of sympathy, donations in Harry's memory may be made to the Moose Jaw Health Foundation, 55 Diefenbaker Drive, Moose Jaw, SK S6J 0C2.  Arrangements are entrusted to Moose Jaw Funeral Home, 268 Mulberry Lane.  Todd Sjoberg, Funeral Director 306-693-4550.