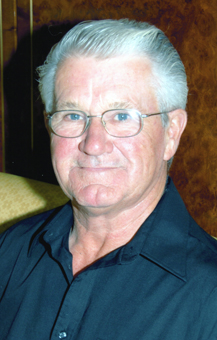 January 12, 1944 – January 16, 2022
It is with sadness that we announce the passing of Ernie Logan only a few days after his 78th birthday. Ernie was raised on a farm in the Old Wives community and continued to farm there until 1994 after which time he moved to Moose Jaw. He has been married to his best friend and partner, Carol (Drake) since April 1963 and a loving father to four children, Barbara, Tammy, Bonnie, and Jamey. During his early years of marriage, Ernie worked as a mechanic at Gaudrey's, White Rose Tower and Con's Corner Service Stations. After the passing of his father, he gave up working as a full-time mechanic in order to focus all his time and energy on raising his family and running the family ranch. 
Ernie was always happy to lend a hand to the Crestwynd and Old Wives communities whenever needed. He could always be counted on to show up, pitch in and provide a laugh while doing so. Ernie served as a leader with the Old Wives 4-H Club, a councillor for the R.M. of Hillsborough and drove the school bus for more than 20 years. He also enjoyed playing and coaching ball at various community sports days.
Following his move to Moose Jaw, Ernie worked as a farm labourer for a large farming/ranching operation until he left to work alongside his son at Strictly Fences which progressed into managing Evenwalk Concrete until his retirement in 2018. Ernie liked to be busy, and it was the progression of Lewy Body Dementia that brought his working days to an end.
Ernie was such a hard worker his entire life, but it was the love for his family that brought him the greatest joy! Ernie was all about family – all the time! This was most evident in the past three years during his time at Providence Place. He had a family member with him every single day with the only exception being during the Covid lockdown period. Carol never seemed to leave, and their ongoing love was evident to everyone.
Ernie's family would like to express their heartfelt gratitude and appreciation for the kind and compassionate care Ernie received during his stay at Providence Place. Their support and friendship has been invaluable to the family and, most especially, Carol during these difficult last few years.
Ernie leaves to mourn his wife, Carol, his children, Barbara (George, grandchildren Chad (Kirsten and great grandson, Logan) Jenna (Bryan, great granddaughter Presley and great grandson Brady), Tammy (Jim), Bonnie (Gill, granddaughter Kendall and grandson Reed (Josie), Jamey (Sheri, granddaughter Taylor (Ryan), grandson Jordan (Amarha). He also leaves to mourn his sisters Margie Willis and Phyllis (Al) Evans. Ernie was predeceased by his parents Jim and Ruby Logan, his sister Edie Loeppky, brother-in-law Bryant Loeppky, brother-in-law Jim Anthony and brother-in-law Ray Willis. He was also predeceased by his in-laws, Bruce and Beatrice Drake.
A Celebration to honour Ernie's life will be held on Friday, January 21st, 2022 at 1:00 p.m. at Moose Jaw Funeral Home with Celebrant Dave Foley officiating.  For friends and family unable to attend, you are invited to watch the service virtually by going to www.moosejawfuneralhome.com/webcast/.  For family and friends so wishing, charitable donations in memory of Ernie may be made to Providence Place Foundation Inc, 100 – 2nd Ave NE, Moose Jaw, SK S6H 1B8 www.provplace.ca or the Alzheimer Association of Saskatchewan, 301 – 2550 – 12th Ave, Regina, SK S4P 3X1 www.alzheimer.ca.  Arrangements are entrusted to Moose Jaw Funeral Home, 268 Mulberry Lane.  James Murdock, Funeral Director 306-693-4550