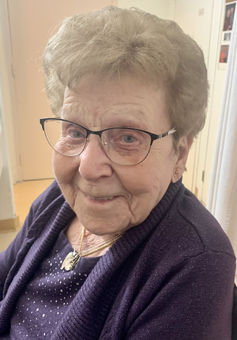 Adeline Lizee (née: Pawluk) passed away peacefully on Sunday, December 12th, 2021 at the young age of 90 years, at Extendicare in Moose Jaw, SK.  She was predeceased by her husband, Harold Lizee; oldest daughter, Linda Lizee; grandson, Shane Smythe; parents, Moisey and Katherine Pawluk; sisters: Betty, Polly, Olga, and May; and brothers: Bob, George, and Roy.  Left to mourn Adeline are her daughters, Pamela (Mary-Ellen) and Theresa Smythe; grandchildren: Adam McKechnie, Dawn (Wayne) Hunter, Christine Fisher, and Dennis (Maureen) Smythe; great-grandchildren: Benue, Kachine, Chenoa, Delsin Fisher, Ceana Smythe, Chelsey Church, Leonard (Jasmine), Tyson, Metro Schumacher/Hunter; sister, Gloria (Bob); brother-in-law, Albert Lizee; as well as numerous nieces and nephews.
Adeline was born on the family farm near Mossbank, Saskatchewan on May 13th, 1931.  She lived through the "Dirty 30's" and even a pandemic.  She met Harold and they were wed on February 26th, 1949 (they made 70 years together).  Adeline and Harold worked together along with Harold's brother Albert in the family owned butcher shop/grocery store for over 40 years.
Adeline was a hard worker.  She went from selling eggs, to working as a waitress, to helping in a dental office mixing the fillings, and then to working in the family business.
Adeline had many health issues in her life from having a brain aneurysm in her 50's to breast cancer at 86, and everything in between.  But she was a fighter and nothing slowed her down.  Adeline loved to curl, golf and play badminton and she made many friends in doing so.  She was horrified of the water and couldn't swim, but even so, she took adult swim lessons.  She was determined and she made it, sort of.  Her front stroke left something to the imagination but she kept her head above water and that was a good thing.  As age crept up she had to quit her sports, not by her choice, but health issues prevented it.  She loved playing bingo, doing a puzzle, playing cards and games in general.  In her later years she took up painting to relax.  Listening to music was a passion, her favourite song being The Family Bible by Willie Nelson and Merle Haggard…that song could be on repeat and she never tired of it.  It brought back memories for her that she cherished to the end.
Adeline loved to dance with Harold and she was the only one that could dance with him because he had an extra step or two thrown in, but she never lost her beat.  She could sit for hours and watch the birds out her window, read a romance novel or circle a word.  She loved the outdoors and the sound of a meadow lark's song.  She also loved flowers but absolutely hated weeding them.  And she was a slow eater…painfully slow.  She would day dream a lot while eating, so every once in a while you would have to nudge her to finish her meal.  Most of her food was eaten cold because she took so long.  And let's not forget Adeline's favourite drink – 74 Port or a cold beer on a hot day.  
The family would like to thank the staff at Extendicare Moose Jaw for the exceptional care and compassion they gave to Mom.  As per Adeline's wishes there will be no funeral and she will be laid to rest in Mossbank Cemetery at a later date. Arrangements are entrusted to Moose Jaw Funeral Home, 268 Mulberry Lane.  Gary McDowell, Funeral Director 306-693-4550