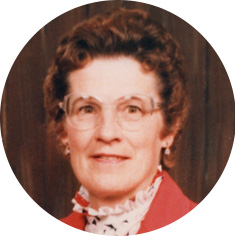 Gladys Irene Lindquist was born on November 4th, 1930 in Riverhurst, SK, the 4th of 8 children of Dave and Emma Coote.  She passed away peacefully on Sunday, May 24th, 2020 at the Dr. F.H. Wigmore Regional Hospital in Moose Jaw, SK.
She was predeceased by her parents, Dave and Emma Coote; husband, Erven; parents-in-law, Albert and Ellen; brothers, Archie and John Coote; sisters: Ethel Peterson, Hazel Hjelte and Maybel Blanchard; brothers-in-law: Carl Peterson, Jim Blanchard, Dave Mason, Ursel Lindquist, Ed Lindell, Keith Holmes, Vern Smith, and Reiny Wendel; and sisters-in-law, Lyla Lindell and Marj Holmes.  Gladys is survived by her son, Lloyd Lindquist; sisters, Violet Peterson and Laura Peterson; sisters-in-law: Marilyn Coote, Alice Smith, Vionne Wendel and Ruth Lindquist; brothers-in-law, Merlin Peterson and Norman Peterson; as well as many nieces and nephews.    
Gladys received her schooling at Emsdale, SK as well as some High School in Riverhurst.  After school, she worked for a farm family at Boharm, SK as well as for Jim Hatley before marrying Erven, then settled at the family farm in the Calderbank district.  Erven and Gladys had one son, Lloyd, and lived there through till 1966 when they moved to Central Butte, SK.  They continued to farm until 2007.  Gladys then began work at the Central Butte Hospital in the housekeeping and laundry department until she retired in 1995.  Gladys loved gardening so much so that if there was a vacant gardening plot in town, she and Lloyd would plant in it if allowed.  Gladys loved her sports and was part of the starting up of the Ladies Fastball team in Central Butte that went on to win 7 consecutive Provincial Championships in the 70's.  She also loved to curl, playing many games in the old Silver L as well as the new rink.  Sports on TV were also a great pastime, especially the Scotties, Briers and World Championships.
The family would like to thank the staff at the Central Butte Regency Manor for the quality and compassionate care shown to Gladys during her stay.  
A Private Family Graveside Service will be held at Sunset Cemetery with Pastor Marvin Seaborg officiating.   As an expression of sympathy, donations in Gladys' name may be made to the Regency Manor Auxiliary, P.O. Box 361, Central Butte, SK S0H 0T0.  Arrangements are entrusted to Moose Jaw Funeral Home, 268 Mulberry Lane.  James Murdock, Funeral Director 306-693-4550.