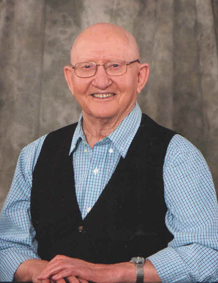 Bernard "Bernie" Anthony Limacher
Bernard "Bernie" Anthony Limacher, aged 89 years of Moose Jaw, SK passed away on Wednesday, January 27th, 2021 in the Arbor Memory Care side of West Park Crossing.  Bernie was born in Mazenod, SK on June 27th, 1931.  His farming career started out as a son helping his father and older brothers.  Bernie married Elizabeth "Betty" Scheirick on April 23rd, 1961.  They took over the family farm 1 mile south of Mazenod and raised their 3 girls there.  They retired in a house that they had built in Moose Jaw in 2002.  Bernie's love of farming never left him as he enjoyed driving around the countryside, with family members or even just friends, checking the crops and watching for wildlife.
Bernie also loved going out to eat, especially Chinese food.  He had a strong faith in God and was a long-time member of the Knights of Columbus.  He was a baseball fan, cheering for the Toronto Blue Jays, and through the winter months watched curling bonspiels on T.V.  But his favourite pastime was a good game of aggravation or cribbage!  
Bernie would provide the always important fatherly advice and simple gestures of peeling potatoes or vacuuming for Betty were always appreciated.  He will be remembered for his humour, kindness and concern for others.  A devoted husband, Bernie took care of Betty for as long as he physically could, until he needed to place her in a care home because of her Parkinson's disease.  Betty passed away in 2012 and in 2013, Bernie sold their house and moved into various retirement homes until his health brought him to West Park Crossing.  The family is grateful for the wonderful care the staff provided him.
He was predeceased by his parents, Joseph and Josephine Limacher; 11 brothers and sisters; and infant granddaughter, Jenna Padfield.  Bernie is survived by his children: daughter, Annette (Daniel) Chabot of Mankota, SK and their children Nolan (Elsie) and their children Winry and Willow, Megan (Justin McKinnon), Erin (Wyatt) Job, and Ellen (Jerad) Dahlman; daughter, Melanie (Sheldon) Padfield of Moose Jaw, SK and their children Kelly (Sunni) and their children Madison, Payten and Daxton, Brianna, Christina (Richard Corbin), and Raylena; and daughter, Karen (Rob) Schauenberg of Regina, SK; sister, Angela LeBlanc of Florida; sister-in-law, Florence Limacher of Calgary, AB; as well as many nieces and nephews.
A Private Family Interment will take place at a later date in Riverside Cemetery, Regina, SK.  In lieu of flowers, donations may be made in Bernie's name to a charity of one's choice.  Arrangements are entrusted to Moose Jaw Funeral Home, 268 Mulberry Lane.  Todd Sjoberg, Funeral Director 306-693-4550