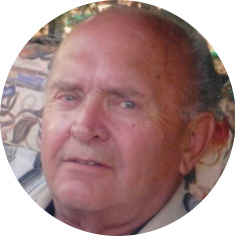 03 July, 1936 – 05 June, 2020
It is with great sadness that we announce that Edward Joseph Liberet, aged 83 years of Moose Jaw, SK passed away unexpectedly on Friday, 05 June, 2020 after a short illness.
Ed was born in Moose Jaw and raised on South Hill, and never wanted to live anywhere else but there. He worked at the CPR for over 30 years and could tell you the number on any engine coming or going.
He had also been an excellent ball player, a coach for youth softball, and a very good umpire. He liked gardening, deriving much satisfaction from it, and from seeing his children shell peas for hours. People also marvelled that Ed's garden didn't have a single weed in it, nor did the entire yard!
Ed was predeceased by his parents, Joseph and Maggie Liberet.  He will be lovingly remembered by his wife, Patsy; daughters, Diana and Kelly (Gerald); son, Randy (Marlene); sister, Joyce Colenutt (Jack); grandchildren Aaron, Chantal, Jeff, Amber, and Sydney; great-grandchildren Alyvia, Ella, and Emma; and many nieces and nephews.
The family extends a special thank you to Ed and Pat's niece, Shelley McSween. The family would also like to express much gratitude to the excellent staff at Extendicare Moose Jaw.
In keeping with Ed's wishes, a Private Family Service will be held. Gifts or flowers are gratefully declined. As an expression of sympathy, donations in Ed's name may be made to the Extendicare Moose Jaw Family Support Group, 1151 Coteau St W, Moose Jaw, SK S6H 5G5. Arrangements are entrusted to Moose Jaw Funeral Home, 268 Mulberry Lane. Andrew Pratt Funeral Director 306-693-4550.