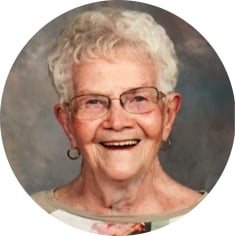 With great sadness, but also with a deep appreciation for a 90 year life well lived, we say "Bye for now" to our mother, grandmother, great-grandmother and friend to many, Helen Jean Lewis (née: McDonell).  Helen passed in the early hours of Wednesday June 5th, 2019 with family at her side.   The care, concern and respect offered by many during her short stay in the Dr. F.H. Wigmore Regional Hospital was appreciated by our family.  She thanked every caregiver for each and everything they did for her.
Helen truly epitomized a life well lived, as she was eternally grateful, optimistic, hard-working, kind, generous and so considerate of others be it family, friends, casual acquaintances or strangers.  Admittedly telemarketers were beginning to try her patience without a doubt.
Helen was born April 10th, 1929 in Carlyle, Saskatchewan to parents William Alexander and Mary Alice McDonell.  She loved her time growing up in Carlyle and at Carlyle Lake (White Bear) with her siblings Jack, Joy and David.  Although not having lived in Carlyle for many decades she kept in touch with her childhood friends, even using that "FaceTime thingy" with her great friend Lois.
In Helen's teens the family lost her brother Jack in WWII.  His sacrifice and that of so many others then and since was never lost on Helen and November 11th was one of the most important days of the year to her.  She has passed on that respect to following generations.
Helen met Harvey Lewis while he was working in the Carlyle area.  They married and raised 5 children, settling in Moose Jaw in the 50's.  Harvey, Helen and kids moved into the family home which she loved for just shy of 60 years!  In 1970 Harvey, Helen and son Robert started their earthmoving company "H.C.L. Construction Ltd." which proudly continues today.  Helen was supportive in this undertaking, looking after "the books" in the early years using the experience she gained while working in the bank at Carlyle.  She is well known at H.C.L. as "the cookie lady" keeping the coffee room well stocked with a variety of home-made cookies.
Helen loved raising the family with Harvey, loving and passing on her passion for lake life at Carlyle Lake and Buffalo Pound.  Some of her fondest memories were growing up at Carlyle Lake and later taking her own children there for summer holidays. Painting, gardening until just recently, swimming and skating in her youth and adult years all brought her enjoyment.  Also in her adult years she enjoyed curling and continued watching curling on TV at every opportunity. She also enjoyed watching hockey, Roughriders and did not like missing Wheel of Fortune and Jeopardy at supper time.
Helen was very civic minded and involved in volunteer groups and other organizations including "The Order of the Eastern Star" and "Daughters of the Nile".  Helen enjoyed many activities over the years at Minto United Church including the UCW and choir. She also loved singing in groups like "Magic Harmony" and "Golden Voices" including this past Christmas season's celebrations for seniors in various homes.
Helen will be remembered by all those that knew her as "bright eyed and smiley" and for the lucky ones she was a great source of those home-made cookies!  Her family was her ultimate pleasure and focus, praying for good health and happiness for all. She held immense pride in all those grandchildren and great-grandchildren.  Just this past Saturday she called all of her "kids" with her "Pinch and a punch for the first of the month" on June 1st, a call that was sure to bring good luck to all.
In addition to her parents and brother Jack, Helen was predeceased by her husband, Harvey; son, Robert; son-in-law, Bill Pirlot; sister and brother-in-law, Joy and Ted Mahoney; in-laws: Lloyd and Lena Lewis, Cecil and Marjorie West, Cliff and Lillian Lewis, Wray and Leona Lewis; nieces: Wendy Kempthorne, Kathy West and Mary McDonell; and nephew, Brian West.  Helen is survived by her brother and sister-in-law, David and Audrey McDonell; daughter-in-law, Maureen Lewis; daughters, Joy Pirlot and Karen Lewis; son, Craig (Shawna) Lewis; daughter, Kay (Richard) Thul; grandchildren: Robbie (Lanette) Lewis, Jessica (Chad) Scott, Lorne Caines, Rosalyn (Travis) McMillen, Jason (Kailey) Pirlot, Cody (Sam) Ksienski, Ella Lewis (Brandon Colonna), Nik (Kamala) Wandler, Logan Lewis, Shay-Lea Lewis, Christopher (Lindsey) Thul, and Haddow Thul (Courtney Tebbutt).  Helen would insist on listing her great-grandchildren who she was very proud of: Parker, Karson and Kolby Lewis, Harper, Willow and Chayden Scott, Kieran and Declan McMillen, Carys and Cormac Pirlot, Maxon and Mila Ksienski, Kylee, Braxton and Macy Thul. Helen is also survived by many nieces and nephews.
A Service to Honour Helen and her life well lived will be conducted by Reverend Linda-Tomlinson-Seebach on Monday, June 10th, 2019 at 11:00 a.m. in Minto United Church, 1036 7th Avenue NW, Moose Jaw, SK.  
Our family would like to thank Dr. Geyer for the many years he cared for Mom.  As an expression of sympathy, donations in Helen's name may be made to the Moose Jaw Health Foundation, 55 Diefenbaker Drive, Moose Jaw, SK S6J 0C2
Arrangements are entrusted to Moose Jaw Funeral Home, 268 Mulberry Lane.  James Murdock, Funeral Director 306-693-4550