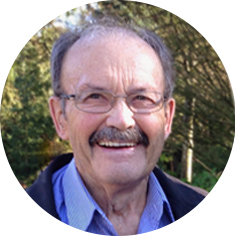 On Monday, August 3rd, 2020, our beloved husband, father, and grandfather, Gary Lewis, went home to be with his Lord and Saviour.
Born June 4th, 1941, Gary spent his childhood years on the family farm near Baildon, SK.  He enjoyed playing baseball and hockey with his cousins and neighbors, and later watching the Roughriders.  He attended Old Guard School and then boarded in Moose Jaw while attending St. Louis College.  Gary obtained his B.Ed at the University of Saskatchewan (Regina).  During his teen years, he played his clarinet in the Lions Band in Moose Jaw and developed a love of instrumental music.  Gary spent a few years teaching in Moose Jaw and Edmonton, AB and then farmed in the Baildon area for about 40 years.
Gary and his wife Karen (née: Yackel) had two children, Andrea and Ian.  After Karen's passing, he married Cathie (née: Heming) and had another son, Jeffrey.  He was an affectionate father and husband and a devoted member of his church.  He served on the Church Board, the Building Committee and in Sunday School for many years.  Gary also served the farming community as part of the local Saskatchewan Wheat Pool committee, the Baildon North Snow Plow Club, and the Baildon Water Pipeline Committee.  His children and grandchildren have fond memories of him fishing in all seasons, riding the farm machines, learning to name birds and star constellations, and hearing him play his clarinet.  Visiting family and friends always brought him great pleasure.  
He was predeceased by his parents, Charles and Lila Lewis; brother, Andrew; wife, Karen; and fathers-in-law, Rudy Yackel and Art Heming.  Gary is survived by his loving wife, Cathie; children: Andrea (Doug) Howard, Ian (Amie) Lewis, and Jeff (Chelsi) Lewis; grandchildren: Katherine and Tessa Howard, Stephen, Rebecca and Samuel Lewis, Kardyn, Kaizley and Kiptyn Lewis; brother, Doug (Jennette); mothers-in-law, Fay Heming and Elsie Yackel; brother-in-law, Cary (Bethel) Heming; sister-in-law, Tammy (Kevin) Rodgers; brother-in-law, Daryl (Connie) Yackel; as well as numerous cousins, nieces and nephews.
The family wishes to thank the staff of Providence Place Guardian Grove for their compassionate care during the last few months.  Thank you also to those who visited him at home and when in care.
The Funeral Service will be held on Saturday, August 8th, 2020 at 1:30 p.m. in Hillcrest Church, 1550 Main St N, Moose Jaw, SK.  Pastor Steve Atkins will officiate and interment will take place at Rosedale Cemetery.  An RSVP is required to attend the service and pandemic precautions will be in effect. Please submit your RSVP at www.garylewismemorial.ca.  Online viewing information is also available through this website.
Gifts in Gary's memory may be directed to the Parkinson's Society of Canada, #110B – 2103 Airport Drive, Saskatoon, SK S7L 6W2 (www.parkinson.ca) and to Kedleston Gospel Camp, 808 Assiniboine Ave E, Regina, SK S4V 0K6 (www.kedlestongospelcamp.com).  Arrangements are entrusted to Moose Jaw Funeral Home, 268 Mulberry Lane.  Gary McDowell, Funeral Director 306-693-4550