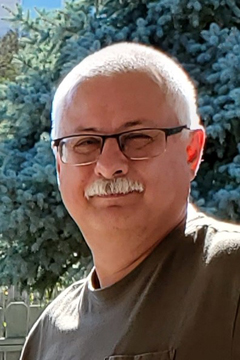 It is with heavy hearts that the family of Richard James Leniuk announce his sudden passing on Friday, February 3rd, 2023 in Regina, Saskatchewan.
Richard James Leniuk, eldest son of Jacob and Gloria Leniuk, was born on January 2nd, 1961 at City Hospital in Saskatoon, SK.  When Richard was 2 years old, the family moved to Europe as Jacob was stationed at the Canadian Armed Forces One Wing in France.  By the time he was 5 years old Richard was easily speaking French and English in the same conversation. 
Eventually another posting brought the family back to Canada, and Moose Jaw, Saskatchewan became his new home.  Richard attended Westmount Public School and then graduated Grade 12 from Riverview Collegiate.  He was accepted at the University of Regina and obtained his Bachelor of Applied Science Degree in Industrial Systems Engineering.  Richard received his P.Eng designation and was a member in good standing with the Association of Professional Engineers of Saskatchewan since 1991.  Richard had a solid work career that provided him opportunities to live and travel across Canada, with business trips to Finland, Europe, and the United States.  He worked for Uponor until his retirement.
Richard had many hobbies, particularly enjoying the outdoors – hunting, fishing, camping, golfing, and whatever he chose to do, he did it the best way possible.  When he wanted to try fly fishing, Richard learned to tie his own flies; camping was taken to another level by camping in BC off grid.  His golf score always hovered around 90.  He played on numerous courses in and around Regina with his friends or picked up rounds with anyone needing a fourth.  
Richard was a great chef, learning new recipes and then experimenting on his own with different spices, seafoods, sauces, or BBQing amazing steaks.  Lucky were the family and friends that were treated to his cooking cuisine.  
Richard had a big heart and was very loyal to his friends and family, being available to lend a helping hand when needed.  
Richard will be lovingly remembered by his parents, Jacob and Gloria; brother, Gregory (Michelle); sister, Loretta; nephew, Nathaniel; niece, Rebecca; as well as numerous aunts, uncles, cousins, and friends.
A Celebration of Richard's Life will be held on Monday, February 13th, 2023 at 1:00 p.m. in Moose Jaw Funeral Home with Father Vasyl Tymischak officiating.  In lieu of flowers, donations in Richard's name may be made to the charity of one's choice.  Arrangements are entrusted to Moose Jaw Funeral Home, 268 Mulberry Lane.  Andrew Pratt Funeral Director 306-693-4550