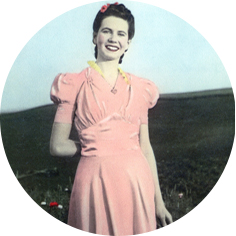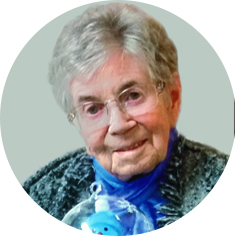 Dorothea Barbara Mary Lemieux
Dorothea Barbara Mary Lemieux (née: Menzies, North, McCormack) passed away on Monday, November 9th, 2020 at the age of 95 years.  Dorothea was born in Limerick, Saskatchewan on December 24th, 1924 to Peter and Mildred Menzies.  She was predeceased by her parents; husband, Louis Lemieux; brothers, Keith and Nairn; sons, Curtis North and Gary North; and stepchildren: Brian Lemieux, Harold Lemieux, Shirley Rosso and Bill McCormack.  Dorothea will be remembered by her daughter, Ev McCormack; sons, Jim (Judy) McCormack and Bob (Rhonda) McCormack; daughters-in-law: Carol North, Maryann North, and Karen Avery ("daughter"); stepchildren: Allan (Shirley) Lemieux, Elaine Lemieux and John Rosso; Bill McCormack's children and all of their families.
The Menzies were poor farmers and survived many hardships.  Dorothea developed a strong sense of resourcefulness, independence and creativity.  She was always very determined, practical and a perfectionist.  Her acute awareness to detail was obvious in both conversation and labor.  She had a strong sense of fairness and advocated for those less fortunate than her.
Despite having severe rheumatoid arthritis and Renaults disease, Dorothea became an accomplished seamstress and tailor.  She could make ANYTHING and EVERYTHING!  She was well known, particularly on South Hill, for creating many bridal gowns, bridesmaid dresses, graduation gowns, suits and various other items of clothing.  Dorothea was definitely a master at her craft.  She was also an excellent cook and perhaps the slowest eater in the world!  
Dorothea had a keen mind and valued education.  She was very observant and attentive to others body language.  She spoke her truth.  Although not especially demonstrative in nature, she was very proud of her children and pleased all had developed strong work ethics and were successful in their chosen occupations.  She was profoundly affected by the loss of her sons Curtis and Gary and her stepdaughter, Shirley.
Dorothea was quite involved with the Liberal Party, local politics and 4-H.  She enjoyed genealogy and spent many hours researching her Scottish heritage.  Dorothea dreamed of visiting Scotland to see the "Menzies" castle and was delighted to receive a picture of her grandson, Dan, taken in front of the castle.
Dorothea loved nature and took many beautiful pictures in Wakamow during walks to watch the birds and wildlife within the area.  She enjoyed puttering in her yard and receiving daily visits from the neighbor's cat, Tigger.
Coping with the loss of her independence was difficult for her.  The family would like to thank all who would brighten her day with a little extra attention, a visit and some conversation over the past few years.  A huge thank you to Bev and James Murdock for sending flowers on a regular basis to lift her spirits.
In keeping with Dorothea's wishes, a Private Family Service will be held in the summer of 2021.  As an expression of sympathy, donations in Dorothea's name may be made to the Salvation Army, 175 – 1st Ave NE, Moose Jaw, SK S6H 0Y9.
May she rest in peace.
Arrangements are entrusted to Moose Jaw Funeral Home, 268 Mulberry Lane.  James Murdock, Funeral Director 306-693-4550