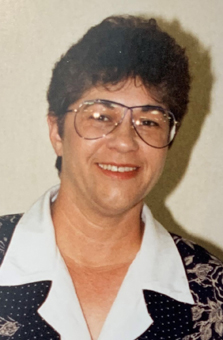 Bonnie Marie Legare, aged 68 years of Moose Jaw, SK passed away on Tuesday, September 7th, 2021.  She was predeceased by her parents, Victor and Ruth Legare; and brother-in-law, Wayne Holness.  Bonnie is survived by her daughter, Tina Clarke and son-in-law, Nito Raval; brother, Victor (Wendy) Legare; sister, Glenna Holness; brother, Dale (Martine) Legare; nephews, Clinton and Devan; nieces: Koren, Meranda and Crystal; her closest lifelong friends: Linda, Marilyn and Molly; as well as family and friends who were a cherished part of Bonnie's life.  
Bonnie spent the majority of her working career with the RCMP and received a Commanding Officer's Commendation for her outstanding work on a high profile case as a public servant.  This award was presented to her at the RCMP F Division by the Lieutenant Governor of Saskatchewan.  The RCMP became like a family to her over the years and we would like to thank them for always looking out for Bonnie.
Though her memory faded in the later years of her life, she still had a smile for those she would visit with and enjoyed being part of the conversation about everyone's life stories.  A special thanks to all the healthcare staff who were a part of caring for Bonnie, especially her care team at Moose Jaw Extendicare.  
In keeping with Bonnie's wishes, a Private Family Graveside Service will be held at Sunset Cemetery.  In lieu of flowers, donations in Bonnie's name may be made to the Salvation Army, 175 – 1st Ave NE, Moose Jaw, SK S6H 0Y9, which was a charity that was dear to her heart.  Arrangements are entrusted to Moose Jaw Funeral Home, 268 Mulberry Lane.  Gary McDowell, Funeral Director 306-693-4550