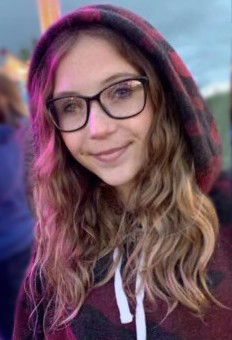 Kenna Marie Lavallee, aged 15 years of Moose Jaw, SK passed away on Friday, June 11th, 2021.  A Celebration of Kenna's Life will be held on Thursday, July 22nd, 2021 from 1:00 p.m. to 5:00 p.m. with the service starting at 1:30 p.m. in the  Heritage Inn, 1590 Main St N, Moose Jaw, SK  with Celebrant Dave Foley officiating.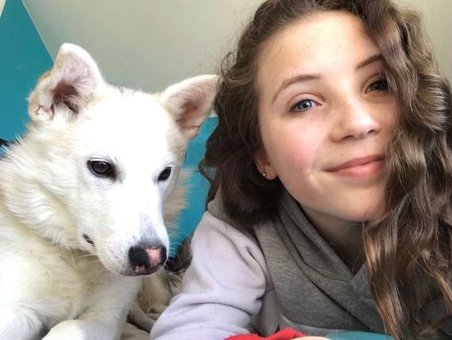 On Friday, June 11th, 2021, Kenna Marie Lavallee was rushed to the Dr. F.H. Wigmore Regional Hospital in Moose Jaw, SK where her beautiful soul left this world surrounded by loved ones.  She was greeted in heaven with open arms by her "Grandpa Dragon" Scotty Fedorwick and Grandpa Bob "Hippie" Lavallee.  Kenna was an angel who left us too soon.  She is survived by her loving parents, Shandee Fedorwick and Jeremy Lavallee; brother, Connor; grandparents, Denise and Jim Davidson, and Bev and DeWayne Vankoughnett; aunts, uncles and cousins: Jesse and Merran Fedorwick (Fynn, Rowan), Aaron and Juanita Fedorwick (Arian, Joseph, Jade, Garrett), Rebecca Davidson (Karma, Deja), Brendan and Amy Davidson (Felix), Bill and Sandy Kopeck, Mike and Melanie Kopeck, Brenda and Mark Gieni (Nathan, Nicky, Michelle),  Ashliegh, Joey, Austin, and Makayla; as well as numerous other relatives.
Kenna burst into the world July 22nd, 2005 at the Regina General Hospital.  She made an early demand of her mother at Buffalo Pound Lake which led to a race to the Moose Jaw Union Hospital, where they were then transported to Regina for delivery.  She arrived with Cystic Fibrosis and spent the first number of years in casts and surgery for club feet.  What could have been challenges were unnoticed blips to Kenna, including a recent diagnosis of Type 1 Diabetes.  She overcame many challenges with a zest for adventure, a compassion for others, a huge grin, and mischievous sparkle in her eyes that said 'hold my Starbucks and watch this' (or words to that effect).  
Kenna attended St. Margaret School where they will remember her as a friend, life tutor, defender of the downtrodden, and nurse to the hurt and sick, until achieving her grade 8 education.  She was active in football, volleyball and basketball, participated in the drama club and anything else she could get her hands on, until the time came for her to expand her influence to include both Vanier and Central as a high school student.  Although her time in the class room was restricted, her impact was not hindered in the least.  Her light will shine on through every friend she made and every person she met.
Cheerleading was a passion and a sport that she excelled at, both on and off the mat.  She gained an extended family with the Moose Jaw Cobra Cheerleading squad.  While traveling multiple provinces, they won many competitions and events, including the Ice Breaker in 2016, where with no shock to anyone that knew her, Kenna spent the day cheering on all the teams on the stage which earned her club the coveted and seldom awarded Team Spirit Award.
Socializing came easy to Kenna.  She was very personable and loved to spend time with her friends.  She frequented Joe's Place, where she volunteered and participated in many activities.  Joe's was always a safe place where she could go and feel welcomed. 
Kenna was a bright light that walked to the beat of her own drum, with determination and a smile.  Kenna was loving and nurturing, and she had a way with children like no other.  She was a proud babysitter of many, with the kids in her care always having the best time.  She had a special attachment with Hudson and Benito, who couldn't wait for their time with her.  She was always present when she was babysitting, setting her cellphone aside and fully engaging in whatever the children wanted to do.  
Kenna loved animals and she had a connection with them regardless of whether they were hers or not.  There was one special animal in her life, her rescue pup named Anakin Bean Skywalker or "Bean" for short.  Kenna and Bean have had each other's backs for nearly 4 years.  Bean is lost without her but will be cherished and loved by the family as Kenna would have wanted. 
We would like to acknowledge our appreciation to Dr. Oni, Dr. Janzen, Dr. Hassan, and the Emergency Response Team at the Dr. F.H. Wigmore Regional Hospital for their valiant efforts to keep Kenna with us and for their compassion as we began our journey of mourning.  A special thank you to Sam, Alissa, Dallas, and Pat for the support provided through this difficult time. As well, we would like to thank Kenna's closest friends who have reached out to share stories, pictures and their experiences with Kenna as she faced the world.
A Memorial Service will be announced once restrictions have been lifted to allow for Kenna's many friends and family to celebrate her life.  In lieu of flowers, donations may be made in Kenna's name to Cystic Fibrosis Canada, Suite 800 – 2323 Yonge Street, Toronto, ON M4P 2C9 or www.cysticfibrosis.ca.  Arrangements are entrusted to Moose Jaw Funeral Home, 268 Mulberry Lane.  Michelle Ellis, Funeral Director 306-693-4550