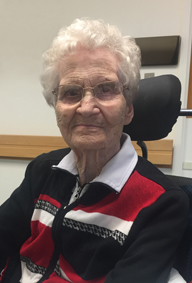 ELSIE ALFREDA LANGHORNE (Cooper, Stevenson)
Elsie Alfreda Langhorne, born May 25th, 1918 on the family homestead near Parkbeg, SK, passed away Sunday, February 28th, 2021 in Moose Jaw, SK.
Elsie was predeceased by her parents, Joseph and Frieda Cooper; husband, Charles Stevenson; brother, Russell Cooper; sister, Dorothy Currie; husband, Ted Langhorne; grandson, Kelly Churko; as well as numerous brothers and sisters-in-law.  Left to remember and celebrate her life are her sisters: Norma Brown, Eleanor Simmons, Joyce Kennedy, and Shirley Boan; children: Bonnie Watson (Glenn), Denny Stevenson (Gina), and Russ Stevenson (Ranie); grandchildren: Kim Churko, Kevin Churko (Kemnay), Cory Churko (Jody), Casey Churko, Parker Stevenson (Cameron), Brady Stevenson (Rachel), Becky King (Trevor), and Liana Gaspers (Scott); great-grandchildren: Tréa, Alethia, Kane (MeShawn), Khloe (Sal), Carter, Kirsten, Madison, and Hayden; multiple nieces and nephews; and the entire Langhorne family who she loved dearly.
Elsie graduated from Mortlach High School, then went to Normal School in Moose Jaw to become a teacher.  Most of her teaching was in Sunday School telling her flannel-graph stories in churches, summer camps, 5 day clubs, and for seniors at Pioneer Lodge.  She shared the message of Jesus wherever she could.  She married Charlie in 1942 and they were married 42 years, having three children and living on the farm south of Mortlach.  They sold the farm and moved into Moose Jaw in the 70's and lived happily until Charlie's passing in 1984.  Elsie said she loved two men in her life and was lucky enough to marry both of them.  She married Ted and had a brief but very happy time together before his passing.  Friends and family enjoyed many good meals at her home, especially her fresh baked buns and delicious pies.  She had to feed everyone, from maintenance men, to cleaning ladies, to the paper delivery guy.  It is the consensus of all who knew her that she was incredibly strong.  Her influence on the lives of others will be evident for many generations to come.
Due to public health restrictions, a Private Service will be held and interment will take place at Sunset Cemetery.  You are welcome to view the Funeral Service virtually on Wednesday, March 3rd, 2021 at 12:30 p.m. by going to www.moosejawfuneralhome.com/webcast/.
Thank you to the compassionate staff at Pioneer Lodge.  Thank you also to Pastor Marvin Seaborg for officiating the service as well as for all of the acts of kindness shown to our mother.  In lieu of flowers, donations in Elsie's name may be made to the Autism Resource Centre Inc, 199 N. Leonard St, Regina, SK S4N 5X5 or Heart and Stroke Foundation of Saskatchewan, Unit 26 – 1738 Quebec Ave, Saskatoon, SK S7K 1V9.  Arrangements are entrusted to Moose Jaw Funeral Home, 268 Mulberry Lane.  Todd Sjoberg, Funeral Director 306-693-4550