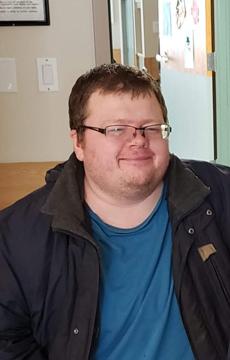 Jonathan Corey Lange passed away on January 24 2023 at his home in Moose Jaw, Sk at the age of 41. Jon was predeceased by his mother T. Robin Lange (Duncalfe) and he is survived by his father Robert Lange and sister Natasha Lange. 
Jon was born in Lahr Germany on September 23 1981 and moved to Canada in July of 1987. Jonathan spent the last 28 years living in Moose Jaw. He worked for Thunder Creek Pork Plant for the last 12 years where he met many friends.
Jon was a very kind and caring man and everybody loved him.  He was very shy and reserved and often referred to as the gentle giant by both family and friends. He will be missed by many as he touched many lives throughout the years.
A service to honor Jonathan will be held at Moose Jaw Funeral Home 268 Mulberry lane on Saturday Feb 18th at 11:00 am where we will have a come and go lunch. All that knew him are welcome to join.
Jon will be laid to rest in Goodsoil, Sk with his grandparents and family on his father's side. In lieu of flowers, donations in Jonathan's name may be made to the Heart and Stroke Foundation of Sask. Unit 26 – 1738 Quebec Avenue Saskatoon, SK S7K 1V9.  Arrangements are entrusted to Moose Jaw Funeral Home, 268 Mulberry Lane.  Cara Ashworth Intern Director 306-693-4550