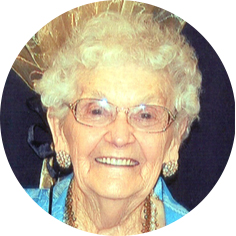 DOROTHY LANG (née: Reich)
August 18th, 1924 – November 2nd, 2020
Dorothy Louise Lang passed away on Monday, November 2nd, 2020.  She was predeceased by her husband of 67 years, Sebastian; parents, Conrad and Mary Reich; brothers, Arthur and Wilfred; son-in-law, Ron Singer; and daughter-in-law, Lorie Lang.  Left to mourn are her children: Louise Singer, Don (Carolyn) Lang, Gord (Hilda) Lang, Gary (Rhonda) Lang, and Linda (Darryl) Ness; 13 grandchildren and 27 great-grandchildren; brother, Albert (Ruth) Reich; and brother-in-law, Joe Lang.
Dorothy was an avid, hard-working farmer's wife, living at Chamberlain, SK from 1947 until 2006.  She and Seb moved into Moose Jaw, SK and then her last move was to Biggar, SK in January 2019 to be closer to family.  She was very active in many executive positions for various organizations in Chamberlain.  She enjoyed curling for 20 years.  Her biggest pleasure was watching Seb and her children play ball in the summer and curl in the winter.  Dorothy always said her winter holiday was travelling with Seb to every province in Canada to curl in the Legion National Championships.  Her blood turned green every summer as she watched her Roughriders play.  She loved parties and was always planning get-togethers for her family.  Her apple pie melted in your mouth.
Dorothy's favorite story was when she was 8 years old and she had to go to the convent in Holdfast, SK in the summertime for catechism.  One day one of the girls told her she had a baby brother.  The next morning she got up at 5 o'clock, packed her suitcase and walked home, which was 8 miles away.  She walked into the yard and her dad had the horse hooked up to the wagon.  He put her in the wagon and took her back to Holdfast.  My understanding is that she never even got to see little Albert.
Mom, we can only imagine what it will be like when your wing man (Dad) is waiting with his arms out for you.  You have been the heart of our family and you are finally at peace.
A Funeral Mass will be celebrated at St. Joseph's Roman Catholic Church and interment will take place at Chamberlain Cemetery.  As an expression of sympathy, donations in Dorothy's name may be made to the Chamberlain Cemetery Fund, Box 2, Chamberlain, SK S0G 0R0.  Arrangements are entrusted to Moose Jaw Funeral Home, 268 Mulberry Lane.  James Murdock, Funeral Director 306-693-4550