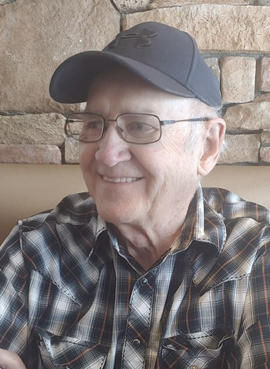 With profound sadness the family of Glen Clarence Kupper, aged 82 years of Moose Jaw, SK, announce his sudden passing on Monday, May 16th, 2022 due to a ruptured aneurism.  Glen was born on June 2nd, 1939 at Rockglen, SK.  He met the love of his life, Margaret Monea, at a dance at Lonesome Butte School where he was one of the musicians, playing his accordion.  They were married on September 30th, 1960 in Rockglen and made their home in Assiniboia, SK.  They were blessed with 2 daughters, Michele Hoffos and Dorrell Weal.  Glen worked for Canada Post in Assiniboia for 33 years.
In 1974, the family moved to an acreage in Congress, SK and Glen finally was able to have a large workshop where he spent many hours building and inventing.  The previous lot was a nursery full of trees, so the land had to be cleared to move in their mobile home.  Glen was a talented carpenter and built a roof over the mobile home, added a large rumpus room, and made it into a comfortable home.  He built many oak cedar chests, cedar planters and a baby cradle, which was used by all 5 grandkids, plus the 4 great-grandkids too.  His folding maple fences and Christmas nativity sets were something to see.  Margaret was so proud of the oak china cabinet and clothes hamper he made for her, plus 3 large entertainment centers for his daughters and a friend.  Besides being a carpenter, Glen was a mechanic, plumber, gardener, electrician, jack of all trades, and a self-taught man who could master them all.  He was a quiet man who never bragged about his accomplishments.  
Glen's passion were camping, boating, water skiing, and snowmobiling with family and friends.  He loved tinkering in his shop and invented some of the neatest things.  In 2009, they retired to Moose Jaw and he really missed his work shop.  His greatest joy was spending quality time with the grandkids and most recently, the 4 great-grandkids.
He was predeceased by his parents, Lena and Jacob; brother, Jackie; father-in-law, John Monea; mother-in-law, Victoria Monea McIntosh; infant brother-in-law, Calvin Monea; and brother-in-law, Gordon Feser.  Glen is survived by his loving wife of 62 years, Margaret; daughter, Michele (Jason) Hoffos; grandson, Daryl (Allie); great-grandchildren, Ava and Axton; grandson, Deven (Shalimar); great-granddaughter, Hailee; daughter, Dorrell (Jeff) Weal; grandson, Ryan; granddaughter, Christine (Aaron); granddaughter, Chantel (Keelan) Hannah; great-grandson, Briggs; sisters-in-law: Loretta Feser, Geraldine Barrett, and Thelma (Alberta) Salaba; and numerous nephews and nieces.
In respect of Glen's wishes, a Private Family Celebration will be held at a later date.  In lieu of flowers, donations in memory of Glen can be made to the Heart and Stroke Foundation of Saskatchewan, Unit 26 – 1738 Quebec Ave, Saskatoon, SK S7K 1V9.  Arrangements are entrusted to Moose Jaw Funeral Home, 268 Mulberry Lane.  Gary McDowell, Funeral Director 306-693-4550