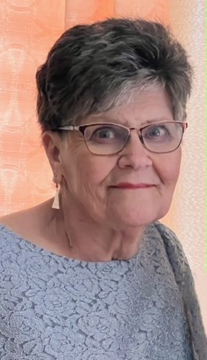 GLORIA JUNE KRAHN (née:  Bassendowski)
Gloria June Krahn aged 83 years of Moose Jaw, SK, passed away on Thursday, May 11th, 2023.  Gloria was the first child of Edmund and Elizabeth Bassendowski, born June 4th, 1939 at home on the family farm at Kelstern, SK.
She was predeceased by her husband of 55 years, Ervin Krahn; parents, Edmund and Elizabeth Bassendowski; brothers-in-law: Victor Dombrowski, Jacob Krahn, and Lawrence Krahn; and sisters-in-law, Elaine Krahn and Lori Dombrowski. They have received her with open arms and warm hearts.
Gloria is survived by her children: Greg (Rhonda), David (Tammy), Murray, and Janette (Terry); grandchildren: Evan (Nicole), Colin, Brayden (Rochelle), Matthew, Hannah (Tyler), Ava, Carly (Ryan), and Michael; brother, Dennis (Judy); sister, Sandra (Luis); brother-in-law, Ken (Alice); and sister-in-law, Linda.  Her great-grandchildren Desiree, Ember, and Aaron were the light of her life.  She could not have been happier than when they entered her life.  She is also survived by numerous nephews and nieces.
Gloria will be missed by numerous others whom she welcomed into her home and heart and treated with the same love and care as she did her own children.  Many of them still refer to her as "mom".
After graduating from nursing college in 1960, Gloria and Ervin were married and started their life together.  Ervin's career with the Saskatchewan Wheat Pool took them to McMahon, Chaplin, and finally to Moose Jaw.  They made numerous friends along the way and were a huge part of each community.  Gloria was known for her seamstress skills, along with her love of all things crafty.  She was a tireless baseball, hockey, and figure skating mom who logged more miles than most.  She never missed a practise, game, or tournament.  She was the most supportive mom and fan for each of her children.
Gloria's strength was legendary.  She battled cancer like a warrior and her six year fight was a valiant effort.  The staff of the Allan Blair Cancer Centre were like family for her and treated her with the utmost respect and care.  Her oncologist even told her "We love you Gloria", a statement echoed by those who knew her.
The family would like to thank the staff of the Dr. F.H. Wigmore Regional Hospital for their excellent care and attention.
A Celebration of Gloria's Life will be held on Saturday, October 28th, 2023 at 11:00 a.m. in Moose Jaw Funeral Home. In lieu of flowers, donations in Gloria's name may be made to the Allan Blair Cancer Centre c/o Pasqua Hospital, 4101 Dewdney Ave, Regina, SK S4T 7T1.  Arrangements are entrusted to Moose Jaw Funeral Home, 268 Mulberry Lane.  Michelle Ellis, Funeral Director 306-693-4550