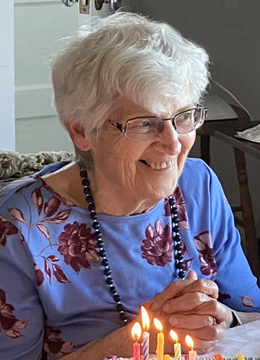 Helen Kosteniuk aged 92 years of Moose Jaw, SK, passed away with peace and grace on Tuesday, April 18th, 2023, surrounded by family, at the Dr. F.H. Wigmore Regional Hospital in Moose Jaw, Saskatchewan.  Helen was born July 23rd, 1930 in Wheatstone, Saskatchewan to the late George and Maria Apostol and was the baby of eight brothers and sisters.  
She was predeceased by Constantine Avram; daughter, Cynthia Wilson (Avram); and son, Randy Avram.  Helen is survived by her husband, Peter Kosteniuk; daughter-in-law, Elaine Avram; sons: Kevin (Becky) Avram, Phil (Laurie) Avram, Al (Lisa) Kosteniuk, Richard (Brenda) Kosteniuk, and Larry (Patti) Kosteniuk; grandchildren: Jennifer (Rollie), Todd, Mark, Ben, Elena, Katie, Joshua, Christa, Alison (Derek), Courtney, Andi, Sedona, Savannah, Landon, Alexandria, Kyle, Del, and Matthew; great-grandchildren: Urijah, Ethan, Leah, and Sarah; as well as many nieces, nephews and dear friends.
Helen had a smile that could light up a room, loved her family and friends with all her heart, was proud of her Romanian heritage and the old traditions of her heritage, and had a deep faith and a beautiful love for God.  All of us that have been blessed to have had her in our lives know what a beautiful human she was inside and out, how kind, strong, caring, and loving she was, how quick witted she was, and even a little mischievous at times.  We are all better humans because of her.  Helen will be missed beyond measure and forever in our hearts.  
A Celebration of Helen's Life will be held on Wednesday, April 26th, 2023 at 10:00 a.m. in Moose Jaw Funeral Home with Father John Bingham officiating.   Those not able to attend may view the service virtually by going to www.moosejawfuneralhome.com/webcast/.  A Prayer Service will be held on Tuesday, April 25th, 2023 at 7:00 p.m. in Moose Jaw Funeral Home.  Arrangements are entrusted to Moose Jaw Funeral Home, 268 Mulberry Lane.  Gary McDowell, Funeral Director 306-693-4550