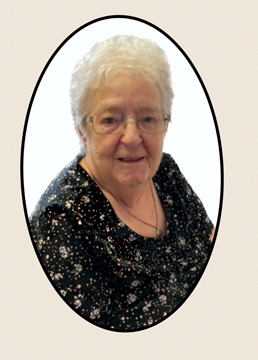 It is with great sadness we announce the passing of our beloved Mother, Grandma, and GG, Ruth Viola Kober, on May 17, 2023 at the age of 90.  Ruth was born in Moose Jaw, Saskatchewan, on August 24, 1932 to parents Malcolm and Edith Brown.  She married the love of her life, Edward Kober, who passed away September 30, 2015.  They were married for 64 years and had three daughters.  She clearly showed her love for all her family.  Her three sons-in-law clamored to be her favourite.  That speaks volumes about their mutual admiration.
Ruth worked many years in the lab at the Providence Hospital.  In her off time, she enjoyed sewing, quilting, knitting, crocheting, baking, crafting, and making jams, pickles, bread, and buns with Eddy.  She loved baking with her grandchildren and great-grandchildren.  She often supplied her family, and their friends and co-workers, with some of their favourite treats.
Ruth was very easy going and was always easy to please.  The caregivers at Pioneer Lodge, in the last two years, always had something good to say about mom.  She participated in recreation at Pioneer, playing whack-a-doodle, floor curling, carpet bowling, and bingo.  She also loved baking and breakfast club. 
The highlight of her days were the visits she had with family and friends.  She had the biggest smile for us all.  You could see her instantly light up.
Ruth was predeceased by her parents, Malcolm, and Edith Brown; siblings: Gordon Brown, Muriel Hallett, Walter Brown; husband, Edward Kober; and grandson, Ryan Hill.  Ruth will be lovingly remembered by her daughters:  Patricia (Randy) Mula, Cathy (Ollie) Hill, and Bonita (Greg) Myers; grandchildren:  Jessica Bodnarchuk, Aaron (Michelle) Mula, Amy (Arden) Ausland, Nicholas (Allison) Myers, and Melissa (Ryan) Taylor; great-grandchildren: Jordan, Caelyn, Nash, Jaspen, Bentley, Dominic, Jett, Riley, Carter, Harley, and Levi; sisters: Elsie McNeilly, Mary Ritchie, Bonnie Gruell, and Heather McMillan; brothers: Colin Brown, Mic Brown, Jim Brown, Rodney Brown, and Ron Brown; as well as many sisters and brothers-in-law, nieces and nephews.
The family would like to thank the staff of Pioneer Lodge and the Dr. F.H. Wigmore Regional Hospital for their excellent care and attention.
A Graveside Service will take place privately, in the near future.   In lieu of flowers, donations in Ruth's name may be made to the Salvation Army Church, 2 Wintergreen Dr, Moose Jaw, SK  S6J 1M9.
Arrangements are entrusted to Moose Jaw Funeral Home, 268 Mulberry Lane.  Cara Ashworth Intern Funeral Director 306-693-4550
Mom, we love you more, more, more, more, more….