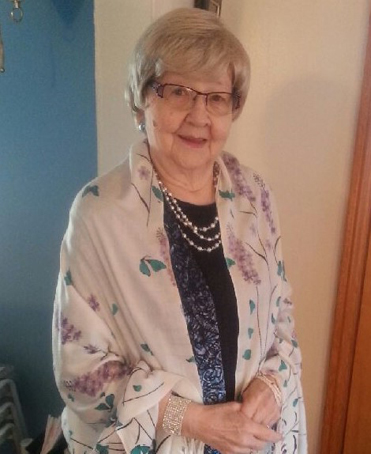 December 28, 1932 – November 18, 2021
It is with great sadness we announce the passing of Kathleen Kirk on Thursday, November 18, 2021.  Kathleen was born at home at 541 Church Street, Preston, Ontario to Alvin and Hattie Schweitzer. She left school at age 14 to work at Savage Shoe where she met her future husband, Bill Kirk.  After their marriage they travelled between Ontario and Saskatchewan several times.  While married they moved 28 times.  The church was always a large part of her life.  She was a long time member of the UCW (United Church Women).  She was very proud when she was given a lifetime membership pin.  She also volunteered at Chez Nous every Tuesday up to the time of Covid, helping with the residents play bingo.  She was happy to be of service even though she was almost as old as the residents and she was proud of the number of times she was able to do this.  She was also involved in Grandmothers 4 Grandmothers.  She loved reading and watching movies and playing games, especially tile rummy and nickel bingo.  She was a Dodger fan forever and was also a fan of the Hamilton Ti-Cats and Toronto Raptors.  She was a daughter, sister, wife, mother, mother-in-law, grandmother and great-grandmother.  She will be sorely missed.
Kathleen was predeceased by her husband, William Kirk, and her two daughters, Bonnie Nodgulen and Marilyn Marienhoff.  She was also predeceased by her father, Alvin Schweitzer, her mother, Hattie Schweitzer-Grebb, her baby sister, Helen, her older sister, Isabelle Becker, and two grandsons, Brett Nordgulen and Crue Langton.  She is survived by her son, Dennis (spouse Lynn and children Shannon and Bryce), her son Larry, her son William (Bill) (spouse Mary-Lou), daughter Linda, daughter Kathleen (Kathy) (spouse Trent Langton and children Jesse & spouse Sara and daughter Maisie, Jeremiah & sons Ruger and Atticus; Casey and spouse TJ & children Lennox and Caleb, Christopher & spouse Whitney & son Simon), granddaughter Jordan (spouse Jeremy & children Shawn and Kaylee and father, Dale), and grandsons Ryan and Colton Nordgulen.
A Funeral Service will be held on Friday, November 26, 2021 at 11:00 a.m. at Moose Jaw Funeral Home, with Rev. Jim Tenford officiating.  Burial will take place at Mossbank Cemetery. Those unable to attend are invited to watch the service virtually by going to www.moosejawfuneralhome.com/webcast/.
In lieu of flowers, donations in Kathleen's name may be made to St. Andrew's United Church, 60 Athabasca St E, Moose Jaw, SK S6H 0L2 or to the Riverside Mission, 40 Manitoba St E, Moose Jaw, SK S6H 0A2.  Arrangements are entrusted to Moose Jaw Funeral Home, 268 Mulberry Lane. Gary McDowell, Funeral Director 306-693-4550