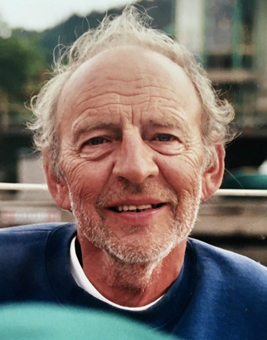 Floyd Percy Kinchen, aged 88 years of Moose Jaw, SK passed away on Friday, February 11th, 2022.  Floyd was born on December 1st, 1933 in Limerick, Saskatchewan to John Herbert and Evelyn Best Kinchen, the second of three sons.  Known as an enterprising young man growing up, Floyd delivered groceries with his bike, and helped revive and run the town theatre.  He apprenticed with Weyburn Funeral Home and then worked at Saskatoon Funeral Home.  In 1958 he transferred to Moose Jaw where he married the love of his life, Dona Mae Erickson, on July 25th, 1960.  Together they lived in Moose Jaw and Moosomin, SK and then moved to Vancouver, BC.  Floyd worked at Simmons and McBride Funeral Home initially, and later moved into estate planning.  He became a distinguished speaker and Charter Member in Toastmasters International.  Soft spoken, with a gentle manner, he mastered the art of story-telling.
Upon retirement, Floyd followed his dream of living on a sailboat and exploring the Gulf Islands and Broughton Archipelago Islands north of Vancouver.  Floyd and Dona easily made friends and became part of a supportive community of sailing enthusiasts.  He spent the last years of his life back in Moose Jaw, blessed with caring neighbours and family nearby.
Floyd is survived by his wife of 61 years, 4 sisters-in-law, 2 brothers-in-law, 1 niece, 5 nephews, several great-nieces and nephews and their children, as well as many dear cousins and countless friends.  
The family gratefully remembers the years of care and attention given to them by Floyd and Dona and will strive to keep Floyd's memory alive by carrying forward his legacy of caring for others.  Our special thanks to the Regina Cancer Clinic, Moose Jaw Home Care, Kinsmen Cafe, Moose Jaw Volunteer Drivers, and the staff at Dr. F.H. Wigmore Regional Hospital for their exemplary care.
Thank you to all who have reached out with your prayers and expressions of love to honour Floyd's memory and lighten our hearts.  May God bless you all.
A Memorial Service to honour Floyd will be held at a later date.  In lieu of flowers, donations in Floyd's name may be made to The Canadian Diabetes Association, 919B Albert St, Regina, SK S4R 2P6.  Arrangements are entrusted to Moose Jaw Funeral Home, 268 Mulberry Lane.  Gary McDowell, Funeral Director 306-693-4550