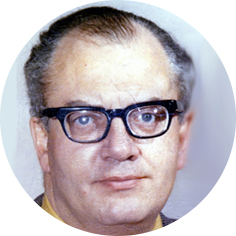 KERN, Robert Frederick (Bob)
KERN, Robert Frederick (Bob) – Born Sept 30, 1927, passed away February 25, 2009 in Moose Jaw, Saskatchewan. Predeceased by Patricia (Pat), his wife for over 50 years, his father John Henry Kern Sr., his mother Ruth Hope (nee MacNeil), his brother John Henry Jr. and his sister Pat. Bob will be sadly missed by his 2 children Pam (Greg) Albert and John Kern, Moose Jaw; as well as by his 2 grandchildren: Jennifer Albert, Brooks, Alberta, and Jeffrey Albert, Saskatoon, Saskatchewan. Bob attended primary and high schools in Moose Jaw and then continued his education at the University of Saskatchewan graduating with a Bachelor of Commerce. During his university years he also worked as a fire warden in the Alberta/BC mountains (oh the amazing stories he had to tell of those days) After graduation Bob worked for an oil company and then he became a partner in Gordon Ross Syndicate. Bob's career path changed when he decided to became an instructor at STI (now SIAST Palliser). During the SIAST years Bob was also Federal Returning Officer for a number of terms. Bob's interests/passions over the years included farming, politics, gardening (we will try to keep his friends in tomatoes that he was so happy to share his bounty with), nature and astronomy. Bob was also a proud 54 year member of the Moose Jaw Lions Club and received many awards including the Brian Stevenson and the Melvin Jones Fellowship as well as being inducted into the Lions Provincial Hall of Fame. Of course there was also the fund raising projects of the Lion Club….including bingo where he was given the nickname "Bingo Bob." Bob was also very happy to donate his blood which resulted in an award for the large amounts he had donated over the years.
The Funeral Service for the late Robert Frederick Kern who passed away on February 25th, 2009 will be held on Friday, May 1st, 2009 at 2:00 p.m. in Moose Jaw Funeral Home. Pastor Bill Thomson of Trinity United Church will officiate and interment will follow at Rosedale Cemetery.For those so wishing, memorial donations in Bob's name may be made to St. Mark's Presbyterian Church, 80 High Street East, Moose Jaw, Sask. S6H 0B8.