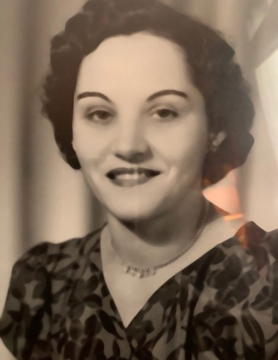 August 16th, 1918 – January 19th, 2023
Our wonderful, beautiful mother, grandmother, great-grandmother, and great-great-grandmother, Phyllis Katha Keller (née: Gattinger) aged 104 years 5 months, left us peacefully on Thursday, January 19th, 2023, at Pioneer Lodge in Moose Jaw, SK.  Phyllis was born on August 16th, 1918 on the homestead at Bateman, SK to Katherine Gattinger (née: Miller) and Frank Gattinger into a large, close knit family.  Phyllis attended Arland School and was very athletic, excelled in track and field and enjoyed playing baseball.  Phyllis was very independent, being somewhat of a boss and had the ability to keep her brothers in line when needed.
in 1940 Phyllis met a young man named John Keller and they married in 1942.  He was the love of her life, and they spent 55 years together until John's passing in 1997.  The early part of their life together began when they moved to a small farm in Northern Pine, SK where their daughter Sharleen was born.  In 1945 they relocated the family to Moose Jaw where their son Gary was born.
Phyllis was a stay-at-home mom providing a stable, loving family home.  She was involved in the Prince Arthur Home and School Association, Grace United Church Women's Auxiliary, Girl Guides Auxiliary, Boy Scouts and Cubs Club.  When her daughter graduated from high school, Phyllis embarked on a new adventure, becoming a psychiatric nurse's aide, a career that lasted 25 years, retiring in 1983.  After retirement John and Phyllis loved their winter trips to Las Vegas for many years, with adventures to Alaska, Disneyland and Eastern Canada.
Phyllis was a very sociable person.  She loved to dance, party and had been known to be quite mischievous at times, which was all in good fun.  Her life was full of fun, family, children, weekend card games, midnight lunches, bingo and trips to the casino.  She loved her home to be filled with family on special occasions, the more the merrier.  She loved every minute of it.
She was predeceased by her parents, Katherine and Frank Gattinger; her beloved husband, John; son, Gary; son-in-law. Jerry Wicharuk; daughter-in-law, Joan Keller (Rodgers); sisters and their spouses: Dorothea, Mary (Adolph) Seidler, Susan (Bill) Benaschak, Caroline (Erwin) Beilhartz, and Viola (Gerald) Treen; brothers: Jacob Gattinger (who was killed in action WW11), Henry (Ann) Gattinger, Frank (Anne) Gattinger, and William (Priscilla) Gattinger; sister-in-law and friend, Isabella Campbell (Keller); and brothers-in-law, Tom Campbell and Shirl Dokkebakken.  Phyllis is survived by her daughter, Sharleen (Harry); sister, Irene Dokkebbaken; brother, John Gattinger; grandchildren: Kevin Wicharuk (Carla), Bradley (Tracy) Keller, Robbie (Trina) Wicharuk, Brent (Catherine) Keller, and Kirk Keller; great-grandchildren: Stefan (Holly) Wicharuk, Jared (Ashley) Keller, Shelby Keller, Alexander Wicharuk (Jenae), Cameron (Laura) Todd, Austin Todd (Skylar), Nikolas Wicharuk (Mimi), Hudson and Ryden Wicharuk; great-great-grandchildren: Riley Keller, Bentley Keller, and Maddox Wicharuk; special friend, Kay Wicharuk; as well as numerous nieces and nephews.  
The family would like to express their thanks and gratitude to the nurses, care aides, dietary and recreation staff at Pioneer Lodge for their kindness and loving care provided to Phyllis during her stay.
In keeping with Phyllis' wishes, a private family celebration of her life and interment will be held at a later date.  In lieu of flowers, donations in Phyllis' name may be made to The Moose Jaw Humane Society, Box 1658 Station Main, Moose Jaw, SK S6H 7K7 or Heart and Stroke Foundation of Saskatchewan, Unit 26 – 1738 Quebec Ave, Saskatoon, SK S7K 1V9.  
To my Mother
You are truly an example of what a mother should be:
Kind, loving, generous, understanding and supportive.
Even though you are out of sight
you will remain in my thoughts, heart and memories.
A life well lived.
Rest in Peace
Arrangements are entrusted to Moose Jaw Funeral Home, 268 Mulberry Lane.  Michelle Ellis, Funeral Director 306-693-4550