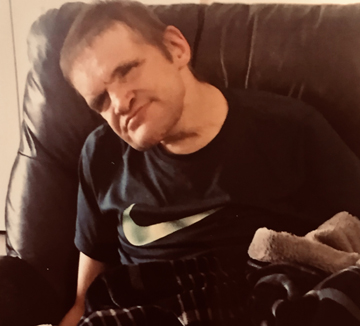 February 5th, 1961 – August 5th, 2023
David Everett Kauth aged 62 years of Moose Jaw, SK, passed away on Saturday, August 5th, 2023.  David was born on February 5th, 1961, in Wilkie, SK.  
He had a happy childhood with many family and friends around to shower him with love.  He enjoyed playing hide and seek around the family farmyard and would giggle uncontrollably while hiding in the bushes, thinking he couldn't be seen or heard.  David was always so active and needed to be watched closely as he liked to wander off.  One rainy day, his mother found him stuck in the mud down the back trail, his rubber boots had been sucked in and he couldn't get out.  In 1968, David moved to Moose Jaw where he spent the remainder of his life being cared for by an extremely caring and compassionate group of individuals, whom David's family will be forever grateful for.
Everyone who knew David knew how much he enjoyed his food, soaking in the tub, and rocking in his chair.  He was loved by anyone who had the pleasure of meeting him and will be missed by many.
He was predeceased by his father, Bill; mother, Jeanette; and brother, Bradley Kauth.  David is survived by his brothers, Bob Kauth (Pam) and Murray Kauth (Monica); sister, Leanne Griffiths (Ed); as well as his nieces, nephews, aunts, uncles, and cousins, as well as his Valley View Centre and Christian Horizons families.
A Celebration of David's Life will be held on Tuesday, August 15th, 2023 at 1:30 p.m. in the Harvey Room at Moose Jaw Funeral Home.  Interment will take place in Wilkie Cemetery at a later date.  As an expression of sympathy, donations may be made to the Canadian Cancer Society, 200-325 Manning Road NE, Calgary, AB T2E 2P5, Christian Horizons, Box 130, Waldheim, SK S0K 4R0, or a charity of one's choice.  Arrangements are entrusted to Moose Jaw Funeral Home, 268 Mulberry Lane.  Michelle Ellis, Funeral Director 306-693-4550