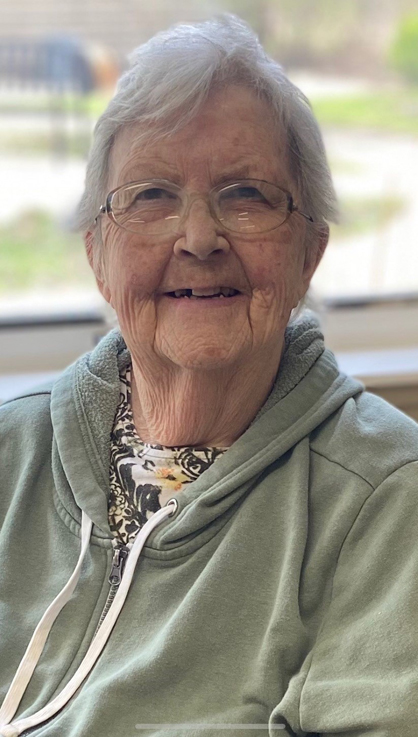 Elaine Jane Kasper, aged 86 years of Moose Jaw, SK passed away peacefully on Sunday, May 15, 2022 at Extendicare in Moose Jaw, SK.  Elaine was born in Mullingar, SK on December 15, 1935.  She grew up in the Bridgeford, SK area and moved to Moose Jaw after grade 11 to go to work.  Elaine worked at the Moose Jaw Union Hospital, ABC Daycare and Social Services.  She married Daniel Kasper on October 11, 1958 and they enjoyed 60 years of marriage.  Elaine enjoyed camping at Diefenbaker Lake, reading, spending time with friends and family [especially the grandchildren], watching television and cheering on her favourite sports teams.  She especially enjoyed attending Vanier Viking football games when her sons were playing, any of the activities her grandchildren were involved in and the yearly K of C Curling bonspiels. 
Elaine was predeceased by her husband Daniel Kasper; father: Hulbert Brown, Mother and Step-Father Jane & Ray King; brothers: Royce & Willa Brown, Cliff & Pearl Brown, Norman & Doris Brown; sister: Elsie Stribbell;  step-brothers: Russ & Ila King,  and Walter King; Step-sisters: Reta & Herman Ridge and Dot & Erle Wilson; Father-in-law & mother-in-law: Jacob & Clementina Kasper, brother-in-laws and sister-in-laws: Bob Graves, Joe & Kay Kasper, Ed & Elaine Kasper, Joan & Guy Ellingson, Wilfred Kasper,  Anne & Roy Douglas, John Andrie, John Kozo, Larry Slon, Kathy Kasper, and Ferdinand Kasper;  as well as nieces and nephews: Phil Brown, Chris Brown, Jimmy Brown, Chuck Kasper, Kent Douglas, and Dawn Kasper.  
Elaine is survived by her daughter: Donna & Ken Flavel; sons: Darrell Kasper and Darcy & Suzanne Kasper; grandchildren: Camille Flavel, Kelan Flavel and Katie Kasper; Step-brother: Tom & Marge King; step-sister-in-law: Joy King, sister-in-laws & brother-in-laws: Pauline Graves, Lydia Andrie, Janet Kozo, Kenny Kasper, Bill & Diane Kasper, Clem Slon, Fred &Barb Kasper, Eileen & John Lyster and Betty Petrovic;  and numerous nieces, nephews, friends and former co-workers.  
A very special thank you is extended to the staff at Extendicare, who lovingly cared for Elaine during her last eleven days. The Funeral Service to honour Elaine will be held on Wednesday, May 25th at 11:00 a.m. in Moose Jaw Funeral Home.  Father Nestor Gregoire will officiate and interment will take place at Dilke Cemetery.  Those not able to attend are invited to view the service virtually by going to www.moosejawfuneralhome.com/webcast/. In lieu of flowers, donations in Elaine's name may be made to the Moose Jaw Health Foundation, 55 Diefenbaker Drive, Moose Jaw, SK S6J 0C2.  Arrangements are entrusted to Moose Jaw Funeral Home, 268 Mulberry Lane.  Michelle Ellis, Funeral Director 306-693-4550