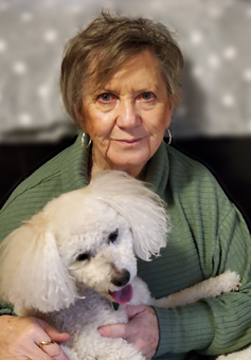 BRENDA JONSSON (née: Price, Champion; Lamb)
Brenda Annie Jonsson, aged 73 years of Moose Jaw, SK and formerly of Sundre, AB passed away suddenly, with her family by her side, on Tuesday, May 17th, 2022, at the Dr. F.H. Wigmore Regional Hospital.  
Brenda was born in Moose Jaw on July 17th, 1948 and was raised on the farm at Lake Valley, SK.  At the young age of 4 years, she was stricken with Polio.  Severe at first, she later recovered with partial paralysis remaining.  Much of her time was spent in and out of hospitals and it was during a stay at the Wascana Rehabilitation Center in Regina, SK that she met her first husband, Robert Lamb.  They married in October of 1965 and then welcomed their two children, Robert in 1966 and Theressa in 1969.
Brenda was the definition of strength and perseverance.  When she was told she couldn't do something, she proved you wrong.  After moving to Moose Jaw in 1974 with her children, Brenda returned to school at STI and began working at Austin's Service as a bookkeeper.  She then obtained a position as a telephone operator with SaskTel in the early 80's, moving to a position in collections and then marketing in Regina.
One of Brenda's proudest achievements was obtaining her driver's license in the late 70's and purchasing her first car.  With the assistance of hand controls, she was able to drive herself and her children anywhere she wished, giving her true independence.  This also allowed her to commute to her job in Regina, long before cell phones existed.
Brenda married Douglas Jonsson in May of 1992 and started a new chapter in her life, moving to Sundre, AB.  Here, she embraced the small-town life and was finally able to own her own home.  Brenda and Doug purchased Sundre Sound and Electronics (Radio Shack) and she managed the daily operations of the store.
After Doug's passing in 2005, Brenda remained in Sundre until August of 2021 when she moved back to Moose Jaw to be closer to her family.  She moved into The Bentley with her beloved companion Chico which allowed her to continue living independently, something that was always so important to her.  Her time there was short but during the last eight months, Brenda made many new friends among the residents and staff and enjoyed all the events and activities.
She was predeceased by her husband, Douglas Jonsson; parents, Cecil and Doreen Champion; father, Leonard Price; and brother, Thomas Champion.  Brenda will be lovingly remembered by her son, Robert Lamb (Deborah Klassen); daughter, Terri Lamb (Gord Biden); siblings: Karen (Ken) Barrows, Glen (Yvonne) Champion, and Doug (Wendy) Price; sister-in-law, Bev Wilson; as well as many nieces, nephews, and cousins.
Many thanks are given to Brenda's friends in Sundre who assisted her and allowed her to continue living in her cherished home.  There are not enough words to express our deepest appreciation to you all.  
The Funeral Service will be held on Thursday, May 26th, 2022 at 11:00 a.m. in Moose Jaw Funeral Home.  Pastor Larry Hasmatali will officiate and interment will take place in Sunset Cemetery.  Those not able to attend may view the service virtually by going to www.moosejawfuneralhome.com/webcast/.  Brenda had a deep love for animals and her companions over the years were a very important part of her life.  As an expression of sympathy, donations in her name may be made to any animal shelter or rescue near you.  Arrangements are entrusted to Moose Jaw Funeral Home, 268 Mulberry Lane. Andrew Pratt Funeral Directors