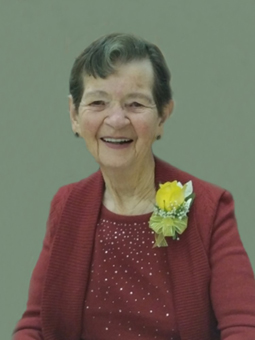 PHYLLIS ANNIE JOHNSTONE (née: Wilson)
Phyllis Annie Johnstone passed away peacefully with her family by her side on Friday, February 11th, 2022, fourteen days short of her 93rd birthday.
Phyllis was born on Feb 25th, 1929 at the home of her grandparents near Coderre, SK.  She attended school at Wood Valley and Coderre. 
Phyllis married Robert Johnstone in 1948 and together they raised their family, farmed and ranched.  In 1972 they sold the farm and moved into Coderre then in 1976 they moved to Moose Jaw, SK.
Phyllis enjoyed a very full life volunteering.  She was active at Coderre in the United Church Women, curling club and community events.  After moving to Moose Jaw she
was a faithful volunteer at the Hospital Gift Shop and Moose Jaw & District Seniors.
She was predeceased by her parents, William and Annie Wilson (née: Sherris); husband of 57 years, Robert Johnstone; grandson, Joey Reader; siblings: Jean (Mervyn), Maisie (Eldon), Jim, Dave (Therese), George (Fern), and Mac (Lil); and brother-in-law, Les.  Cherished memories of Phyllis are held in the hearts of her family: son, Curtis; daughters: Karen (Jack) Johnson, Myrna (Walter) Hawkins, and Eunice (Jim) Reader; grandchildren: Amanda Johnstone (Ryan), Clayton Johnstone (Kelsey), Angela (Ryan) Dunn, Anita Johnson (Dave), Kari (Martin) Gottselig, Jeffrey (Lisa) Hawkins, Willie (Amanda) Hawkins, Kirby (Jeremy) Bochek, Alicia Reader (Brayden), and Chantel McCallum; great-grandchildren: Casey Johnstone, Dustin, Bryanna, Emma Stubbert, and Caylee Weir, Livia and Amiah Johnstone, Colter and Ryder Dunn, Alexis Mack, Kayla and Teigan Gottselig, Reid and Carter Hawkins, Logan and Charleigh Hawkins, Zoey and Zane Bochek, Cruz Reader-McCallum and Aria McCallum; sister, June Marchessault; as well as many nieces and nephews.
A special thank you to Dr. A.J. Van Heerden, the staff at The Revera Bentley, Medicine Ward at the Dr. F.H. Wigmore Regional Hospital, and Pioneers Lodge.  A very special thank-you to Brina at Moose Jaw Main St. Pharmacy.
The Funeral Service will be held on Saturday, February 19th, 2022 at 1:00 p.m. in Moose Jaw Funeral Home with Reverend Doug Shepherd officiating. All are welcome and please wear your mask.  Those unable to attend may view the service virtually by going to www.moosejawfuneralhome.com/webcast/.  Interment will take place at a later date.  As an expression of sympathy, donations in Phyllis' name may be made to Moose Jaw and District Senior Citizens Association, 101 – 510 Main St N, Moose Jaw, SK S6H 3K3, Zion United Church, 423 Main St N, Moose Jaw, SK S6H 0W5, or the Moose Jaw Health Foundation, 55 Diefenbaker Drive, Moose Jaw, SK S6J 0C2.  Arrangements are entrusted to Moose Jaw Funeral Home, 268 Mulberry Lane.  Todd Sjoberg, Funeral Director 306-693-4550